J.R. Todd is fast on his way to a NHRA championship.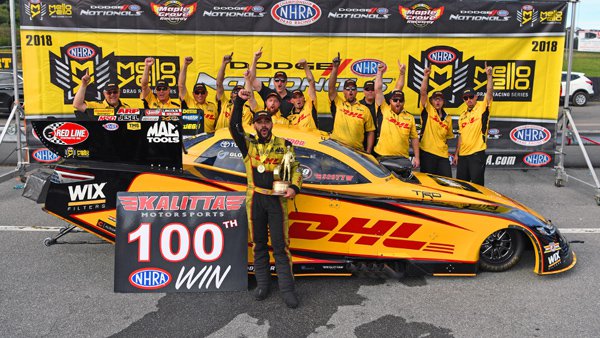 Lawrenceburg, Indiana native J.R. Todd and the DHL/WIX Filters team celebrate career win 100 for Kalitta Motorsports at the 34th Dodge NHRA Nationals on Sunday, September 16. Photo courtesy of Kalitta Motorsports.
(Mohnton, Penn.) – Back-to-back wins could not come at a better time for NHRA Funny Car driver J.R. Todd and his team.
Todd and the DHL/WIX Filters team won the Funny Car title at the 34th Dodge NHRA Nationals at Maple Grove Raceway on Sunday. The win puts the Lawrenceburg native in top position among the 10 drivers in the 2018 NHRA Mello Yello Drag Racing Series Countdown to the Championship.
In the final, Todd's 3.972 second, 319.90 MPH run outran Tim Wilkerson's 4.196 second, 249.95 MPH pass.
"It's awesome to keep the momentum going, but we still have a long road ahead of us," said Todd. "These DHL/Wix Filter Toyota guys know how to win. A lot of them were here when Del Worsham won the title in 2015. I just want to keep winning and keep our foot on their throats. We got some gifts early on today with some of the cars in front of us going out early. It was nice to be able to come out of here with a win and gain on everyone in the Countdown. Now we just need to keep it going through St. Louis."
The victory comes two weeks after Todd and crew wrapped up the regular season by winning the U.S. Nationals at Indianapolis Motor Speedway. That win was a repeat of Todd's title at the U.S. Nationals in 2017.
Kalitta Motorsports celebrated its 100th win for team owner Connie Kalitta. For J.R., the win is his fourth in funny car this season and 12th of his career.
Maple Grove was the first of six events in the Countdown to the Championship. The next is September 21-23 at the AAA Insurance NHRA Midwest Nationals at Gateway Motorsports Park in Madison, Illinois.
This is what makes it all worth it! Can't thank this guy enough for all he's done! https://t.co/U0qJSXBolh

— J.R. Todd (@JRTodd373) September 16, 2018
RELATED STORIES: