The Ohio River Valley Conference weekly basketball awards go to South Ripley's Alexah Roepke and Switzerland County's Damian Breek.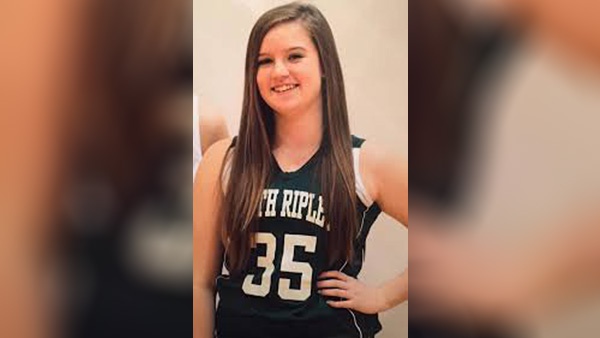 Elexah Roepke is the ORVC Girls Basketball Player of the Week.
(Versailles, Ind.) – Elexah Roepke has put together a great high school basketball legacy at South Ripley High School.
The latest feather in her cap is another Ohio River Valley Conference Girls Basketball Player of the Week award.
In a win over Franklin County on Saturday, December 8, Roepke scored her 1,000th career point. In two games during the week, she posted 38 points, 18 rebounds, six assists, and six steals.
Just last month, Roepke signed her letter of intent to play college basketball at Purdue University Northwest.
The ORVC Boys Basketball Player of the Week was Damian Breeck. He recorded 43 points, 11 boards, and six assists in two games for the Pacers last week.
Below are ORVC top performers for the week of December 3rd through 8th:
Boys Basketball
Justin Ohlmansiek (Jac-Cen-Del) - 21 pts, 7-9 FG, 7-7 FT, 5 stl vs. No. Decatur
Joel Norman (Milan) - 36 pts, 12 rebs, 4 stl, 3 ast in 2 games
Bryce Franklin (South Ripley) - 20 pts, 9-15 FG, 8 rebs, 3 stl vs. Shawe
Peyton Wert (Milan) 20 pts, 16 ast, 11 rebs in 2 games
Tyler Kramer (Southwester) - 17 pts, 6 rebs, 5 ast, 4 stl vs. New Wash
Orrin Schmidt (Milan) - 29 pts, 15 rebs, 6 ast, 3 blk in 2 games
Foster Mefford (Shawe Memorial) - 17 pts, 6 stl, 5 ast, 3 rebs vs. New Wash
Damian Breeck (Switzerland County) - 43 pts, 11 rebs, 6 ast in 2 games
Zach Cole (Southwestern) - 12 pts, 4 rebs, 4 ast, 3 stl vs. New Wash
Dalton Tingle (Switzerland County) - 34 pts, 22 rebs, 6 stl, 5 ast in 2 games
Ethan Stuart (Shawe Memorial) - 23 pts vs. South Ripley
Tyler Konkle (Switzerland County) - 21 pts, 10 rebs in 2 games
Girls Basketball
Elexah Roepke (South Ripley) - 38 pts, 18 rebs, 6 ast, 6 stl in 2 games
Aleiah Thomas (Switzerland County) - 24 pts, 5 rebs, 2 stl vs. Shawe
Morgan Peetz (South Ripley) - 27 pts, 9 ast, 8 stl, 6 rebs in 2 games
Jessie Duvall (Switzerland County) - 11 pts, 5 rebs, 4 ast, 2 stl vs. Shawe
Paige Ledford (Jac-Cen-Del) - 21 pts, 24 rebs in 2 games
Maddie Duvall (Switzerland County) - 7 pts, 4 rebs, 4 ast vs. Shawe
Mariah Day (Jac-Cen-Del) - 17 pts, 7 rebs, 3 ast, stl, blk vs. Morristown
Kate Grote (Shawe Memorial) - 34 pts in 2 games
Anna Hubbard (Jac-Cen-Del) - 9 pts, 13 rebs, 3 blk vs. Waldron
Bella Marcum (Southwester) - 19 pts, 10 rebs, 4 stl vs. New Wash
Lindsay Montgomery (Rising Sun) - 16 pts, 9 rebs, vs. Oldenburg
Danyka Groover (Rising Sun) - 16 pts, 4 rebs, 2 stl vs. Oldenburg