Head coach Ryan Langferman and six of his standout players joined Crunch Time on Monday to preview the upcoming season.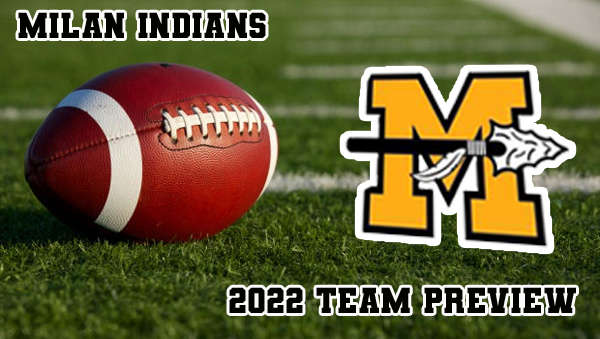 (Milan, Ind.) – When you look across the state of Indiana, you won't find many teams that return as many starters as the Milan Indians.
After going (4-7) in 2021, Milan has its sights set on a Class 1A sectional championship with all 22 starters back.
"We started zero seniors last year, so you're going to see a lot of familiarity with the players we have returning," said head coach Ryan Langferman. "We came out with four wins, and I feel like there was at least three that we let get away from us."
Milan had late games leads against Batesville, Eastern Hancock, and Providence.
Coach Langferman attributed inexperience and various reasons for the losing those games, adding had the "ball bounced a different way" the Indians could have easily been (7-4).
"We're excited to have everyone back. I've never been able to say that as a coach that we are returning really 22 starters to the team, but we also knew that we have some things to work on from a 4-7 record," said Langferman.
Some of the top returning players include:
QB Brayden Rohrig (Sr.) – 86-173, 1,003 yards, 9 TD, 12 INT; 78 carries, 342 yards, 7 TD
RB/DE Riley Johnson (Sr.) – 123 carries, 568 yards, 3 TD; 39 tackles, 11 TFL, 4 sacks, 9 pressures
RB/DB Logan Reed (Sr.) – 125 carries, 549 yards, 11 TD; 56 tackles, 11 TFL
RB/LB Alec Barker (Sr.) – 14 receptions, 113 yards; 56 tackles, 15 TFL, 1.5 sacks
WR Jonny Volk (Sr.) – 29 receptions, 252 yards, TD
DE Alex Wenger (Sr.) – 62 tackles, 12 TFL, 1.5 sacks, 16 pressures
TE/LB Ethan Pierce (Jr.) – 19 receptions, 297 yards, 5 TD; 72 tackles, 4 TFL
WR/DB/K/P Logan Burton (Jr.) – 40 tackles, 13 TFL, 2.5 sacks, 2 INT
WR/S Mason Green (Jr.) – 50 tackles, 5 TFL, 2 INT
WR/CB Austin Green (So.) – 36 tackles, 10 pass break ups (PBU)
LB/DE Jonathan Aldridge (Sr.) – 26 tackles, 9 TFL, 14 pressures
RT Braylon Nudds (Sr.)
RG Landon Stanley (So.)
LT Nolan Ryan (Sr.)
LG Mason Johnson (Jr.)
C Trenton Langferman (Jr.)
Other potential standout players include RB/DB Cameron Gilb, OL/DL Brandon Simms, OL/DL Joaquim Allen, OL/DL Kaylb Lane, WR/DB Justin Caseltine, TE/H-Back/LB Luke Blackburn, OL/DL Kyle Gotts, OL/DL Maison Taylor
"Something we are working for with our tougher schedule is getting less guys playing both ways and I really feel like this year more than any other year we can really make that a possibility this year," said Coach Langferman.
Another exciting development with the Milan football program is the installation of a multi-use artificial turf playing surface.
The turf started going down on Monday. Other upgrades include a new scoreboard and visitor bleachers. A new weight room is also in the works.
Coach Langferman is just two wins away from his 100th career win. If the Indians can win their fourth straight game against Rushville to kick-off the season, it would set up an opportunity for Langferman to capture his 100th win during the first home game on the new turf.
"I'll take it any time. If it happens game two, awesome. If it happens later, that's fine too, but preferably it would be week two," said Langferman.
Outside of reaching the 100-win milestone, Milan's main goal in 2022 is winning the sectional - which they haven't done since 2016.
Milan moves from Sectional 47 to Sectional 46 this year. The sectional will feature seven teams including Edinburgh, who joins the tournament field in place of Oldenburg Academy and Hagerstown. The rest of the sectional is made up of last year's champion Tri (lost in semi-state to Indy Lutheran), North Decatur, South Decatur, Knightstown, and Cambridge City Lincoln.
"Us, North Decatur and Tri has been quite the battle the last few years," said Langferman. "I do really think whoever gets out of our sectional will have a great chance to win the regional. Somebody much wiser than me said that the hardest trophy to win in high school sports is the sectional trophy. If you can get through those three games, then anybody has a chance the next week. We're focused on the sectional, we're focused on one game at a time. Right now, we're focused on improving from our scrimmage last week. We're anxious for the season to start."
CRUNCH TIME FEATURING THE MILAN INDIANS: Crunch Time - July 18, 2022 - Crunch Time - Eagle Country 99.3 (eaglecountryonline.com)
2022 Schedule
August 19 – at Rushville – 7 PM
August 26 – vs. Batesville – 7 PM
September 2 – at Lawrenceburg – 7 PM
September 9 – vs. Madison – 7 PM
September 16 – vs. New Miami – 7 PM
September 23 – at Eastern Hancock – 7 PM
September 30 – vs. Providence – 7 PM
October 7 – at Greensburg – 7 PM
October 14 – vs. Switzerland County – 7 PM