Greendale Police assisted the U.S. Marshal Service with the arrests on Tuesday.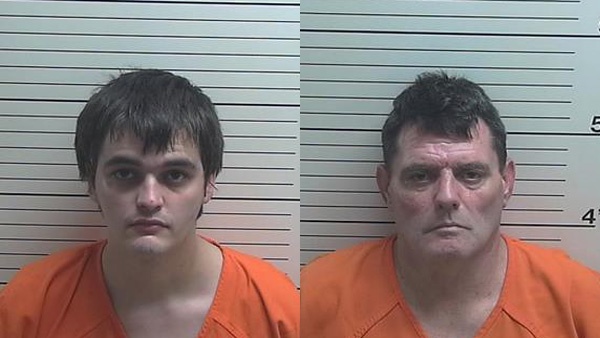 Brian J. Jackson and John W. Hamilton. Photos by the Dearborn County Sheriff's Office.
(Greendale, Ind.) - Two Ohio men have been arrested on multiple drug related charges.
Greendale Police were requested by the U.S. Marshal Service to respond to Stateline Motel on U.S. 50 Tuesday morning in reference to assisting with a wanted fugitive who had warrants out of Hamilton County for two counts of felonious assault.
Upon arriving at the scene, U.S. Marshal's had located the suspect, Brian J. Jackson with another male, John W. Hamilton and a runaway juvenile from Hamilton County.
Greendale Police transported James to Dearborn County Jail, while a search of the motel room was conducted.
According to a probable cause affidavit, police located a handgun in plain view, two bags containing crystal rock like substance (approximately 12 grams), a plastic bag containing a brown substance believed to be heroin, and three bags of marijuana that totaled 210 grams.
Police also allegedly located 22 counterfeit $10 bills and 24 counterfeit $5 bills.
Jackson, 23, of Cincinnati, and Hamilton, 50, of Cleves, are charged with Dealing in Methamphetamine at Least 10 Grams (Level 2 Felony); Dealing in a Narcotic Drug (At Least One Gram But Less Than Five Grams With An Enhancing Circumstance), Level 3 Felony); Dealing in Marijuana (Level 6 Felony); and Counterfeiting (Level 6 Felony).