Primary election day is Tuesday, May 5.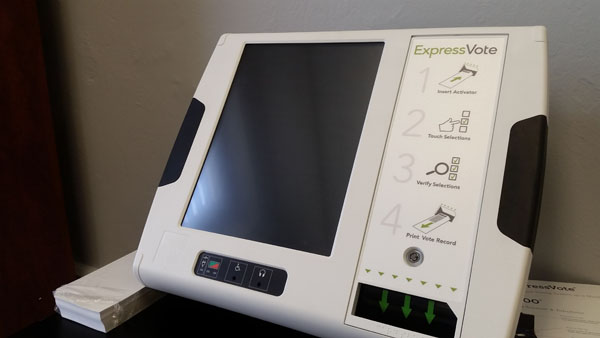 (Dearborn County, Ind.) – Dearborn County voters will have more vote center locations to choose from when they go to cast a ballot this spring.
Postcards have been sent out to Dearborn County citizens listing 10 locations to vote at when Primary Election Day rolls around on Tuesday, May 5.
Last November, some residents in Dearborn County were introduced to using vote centers for the first time. At the time, there were only four voting locations due to most elections being limited to city and town offices.
With a countywide election upcoming, there will be an increase in voting center locations for the 2020 primary and general elections.
The locations are:
Dillsboro Civic Center – 9824 Central Avenue, Dillsboro, IN 470181st
Baptist Church of Aurora – 6060 Blair Drive, Aurora, IN 47001
Agner Hall – 145 Speedway Drive, Lawrenceburg, IN 47025
Tanner Valley Methodist Church – 19235 State Road 1, Lawrenceburg, IN 47025
Hidden Valley POA – 19303 Schmarr Drive, Lawrenceburg, IN 47025
Dearborn Hills Methodist Church – 25365 Stateline Road, Lawrenceburg, IN 47025
St. John Catholic Church (Dover) – 25743 State Road 1, Guilford, IN 47022
St. Marian Church (Yorkville) – 8044 Yorkridge Road, Guilford, IN 47022
Manchester Fire House – 7893 State Road 48, Aurora, IN 47001
Moores Hill Senior Center – 16610 N. Broadway Street, Moores Hill, IN 47032
Each location will be open from 6:00 a.m. to 6:00 p.m. on primary election day.
The idea behind the vote centers is to make voting easier while saving the county money. Vote centers don't require as many poll workers and they allow voters to go to any location, rather than an assigned polling place near their home.
Offices on the ballot in 2020: President of the United States, U.S. House, Governor, other state executives, State Senator, State House, State Supreme Court, intermediate appellate courts, local judges, school boards and municipal government.
To register to vote in Indiana, an individual must be a U.S. citizen, at least 18 years old by the next general or municipal election, have resided in the precinct at least 30 days preceding the next election and not be imprisoned for the conviction of a crime.
Registration can be completed online at www.indianavoters.in.gov, by mail or in person at your county's voter registration office.
The voter registration deadline in Indiana is Monday, April 6.
RELATED STORIES:
It's Official: Dearborn County Now Using Vote Centers For Elections