A Dodge Journey and Chevrolet Impala collided on State Road 56 in Ohio County late Tuesday night.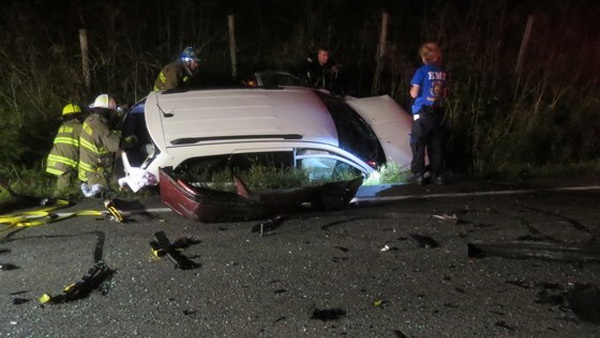 Photo provided by Indiana State Police
(Ohio County, Ind.) – A woman died and four others were injured in a two-vehicle crash which closed State Road 56 overnight.
Indiana State Police say the wreck happened when the two vehicles met head-on on S.R. 56 near Henschen Road in Ohio County at around 10:40 p.m. Tuesday.
According to troopers, A 2014 Dodge Journey driven by Jennifer J. Turner, 40, of Rising Sun, was traveling southbound on the highway when her vehicle crossed into the northbound lane and collided with an oncoming 2002 Chevrolet Impala driven by Lauren M. Rose, 19, of Vevay.
Rose was transported to Highpoint Health in Lawrenceburg where she died of her injuries.
A passenger in Rose's vehicle, Isaiah Earles, 18, was taken to Highpoint Health with minor injuries.
Turner went to the hospital with injuries not believed to be life threatening.
A 15-year-old front-seat passenger in Turner's vehicle suffered serious injuries and was rushed to a Cincinnati hospital for treatment. An eight-year-old backseat passenger went to Highpoint Health with minor injuries.
State Road 56 remained closed for two to three hours for a crash investigation and cleanup.
Troopers say Turner submitted to a blood test for intoxication. Results are pending.
Lauren Rose's family has been notified.
A joint investigation of the crash is being conducted by ISP and the Ohio County Sheriff's Department. Other agencies assisting at the scene included the Dearborn County Sheriff's Department, Aurora Police Department, Ohio County EMS, and Rising Sun Fire Department.