Jake Hebert was named the Firefighter of the Year.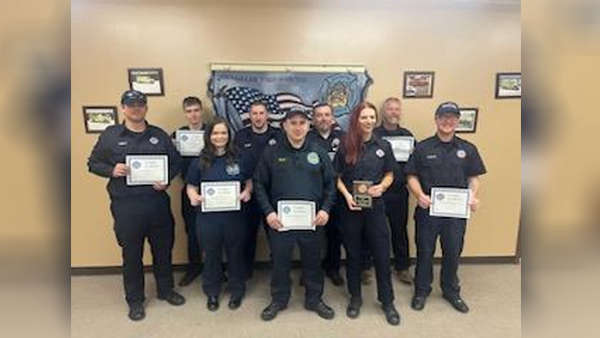 Photo by Versailles Fire Rescue.
(Versailles, Ind.) – Versailles Fire Department recently held their annual awards banquet.
Five members were recognized with awards, while several others were honored for their various years of service.
The award recipients are:
Firefighter of the Year: Jake Hebert
Chief's Award: Josh Walston
Officer of the Year: Rick Dillion
Top Responder of the Year: Cassi Hornsby
Top Training Hours for the Year: Tanner Franklin
Other recognized included Derek Wood (10 years), Lance Prather (5 years), Rick Dillion (5 years), Jayden Hunger (1 year), Tony Franklin (1 year), Tanner Franklin (1 year).
The Top 10 Responders for the year were: Cassi Hornsby, Josh Walston, Jayden Hunger, Bryan Buchanan, Nathan Pelfrey, Rick Dillion, Jake Hebert, Randy Hornsby, Tony Franklin, Tanner Franklin.