A surprise discovery means U.S. 50 in Lawrenceburg will be reduced to one lane each direction for several more days.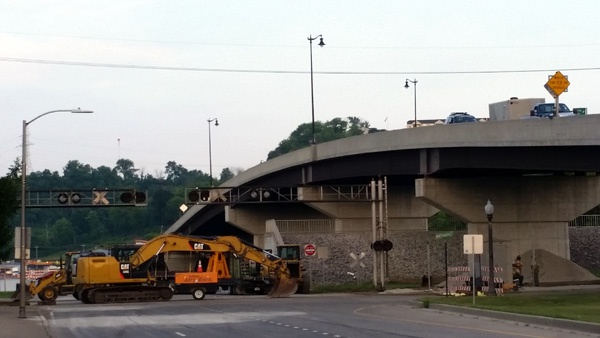 Railroad work will keep U.S. 50 Eastbound at Tanners Creek shut down several days longer than first anticipated. Photo by Mike Perleberg, Eagle Country 99.3.
(Lawrenceburg, Ind.) - Motorists using U.S. 50 through Lawrenceburg will have to put up with the delays at the Tanners Creek Bridge a little while longer.
The highway has been reduced to one lane each direction since last week as CSX Railroad replaces a crossing on U.S. 50 eastbound at the Tanners Creek flood wall.
But some bad news regarding the project arose Monday. The Indiana Department of Transportation announced that crews uncovered a separate set of tracks which will require more time to remove.
The U.S. 50 lane closures were supposed to be lifted Tuesday, but INDOT says they will now be in place for several more days. Eastbound traffic will remain shifted onto the Tanners Creek Flyover Bridge – normally for westbound traffic only – until the railroad project is completed.
INDOT's cooperative efforts with Central Railroad are in conjunction with a $6.9 million asphalt resurface and slide correction project impacting U.S. 50 in Dearborn County.