The fire started in the early morning hours of September 11.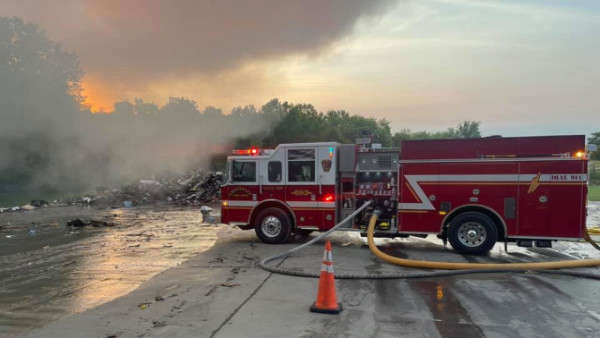 Photo by Lawrenceburg Fire Department.
Update published Monday, September 13 at 9:39 a.m.:
Firefighters were on the scene of a structure fire at Best Way Disposal in Greendale for nearly seven hours on Saturday morning.
According to Greendale Fire, crews responded to the call at 4:17 a.m. A nearby resident with outdoor security cameras, said footage showed a "glow" from the structure around 4:01 a.m.
Firefighters remained on the scene until 10:43 a.m.
No injuries were reported, and a cause of the fire is being called undetermined.
Greendale Fire said a structural engineer was called to check the building before trash could be placed there.
No other information was provided.
Original story published Saturday, September 11 at 9:43 a.m.:
(Greendale, Ind.) - Emergency crews are on the scene of a structure fire in Greendale.
The fire broke out at Best Way Disposal near Interstate 275 around 4:00 a.m.
Greendale Police reports that there will be smoke in the area for some time.
"While we understand people are concerned and calling 911, it is overwhelming for 911 to receive multiple calls," Greendale Police said in a Facebook post.
Firefighters from Lawrenceburg and Greendale are expected to remain at the scene for most of the morning.