The organizations met with State Senator Chip Perfect and State Rep. Randy Lyness.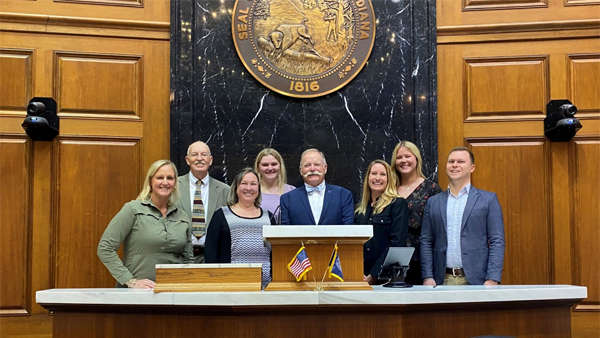 Photo provided.
INDIANAPOLIS - Members of the Southeastern Indiana United Way and the Southeastern Indiana Economic Opportunity Council (SIEOC) traveled to the Statehouse on January 24 to meet with Senator Chip Perfect and Representative Randy Lyness to advocate for passage of legislation that supports expanding programs that ensure better pre-school education for all Hoosier children.
Data indicates that the On My Way Pre-K Program, which enrolls and funds young children from economically disadvantaged households, makes a significant improvement in future school performance and, according to a study by Indiana University, earnings potential.
Increasing funding and expanding eligibility for these programs, along with improving preschool teacher training are at the core of legislation making its way through the current legislative session.
United Way Director Karen Snyder was joined by radio personality Jim Scott, Dearborn One Economic Development Council Executive Director Mike Perleberg, UW Action Council President Jill Timon and her daughter Anna, Scott Sedmak, St. Elizabeth Director of Community Relations, SIEOC Family Development and Outreach and Enrollment Specialists Brianna Upton and Amber Moody, and UW volunteer Ron Nicholson. They were joined by UW Legislative Liaison Kristina Scott.
The team stressed to the legislators that investing and supporting the On My Way Pre-K Program helps significantly improve school performance, test results, a reduction in the need for remediation, and provides quality, affordable childcare for parents while improving the local economy in the long term. The team asked Senator Perfect and Representative Lyness to support legislation that would raise the eligibility threshold from 127% of the Federal Poverty Level to 185%, making the program available to more families. They also asked for support removing the current $6,800 cap on My Way Pre-K awards in order to help the neediest families and for increased funding to support those who study early childhood education. Indiana expects a shortage of early childhood educators by 2028.
Aside from meeting with legislators, the team met and lunched with other United Way teams from across the state. UW Director Karen Snyder said, "This was an excellent opportunity to meet face-to-face with our legislators and show them that we are all on the same team, trying to make Indiana a great place to raise a family. We really appreciate their warm reception and time."