A suspicious red truck helped lead police to the arrests.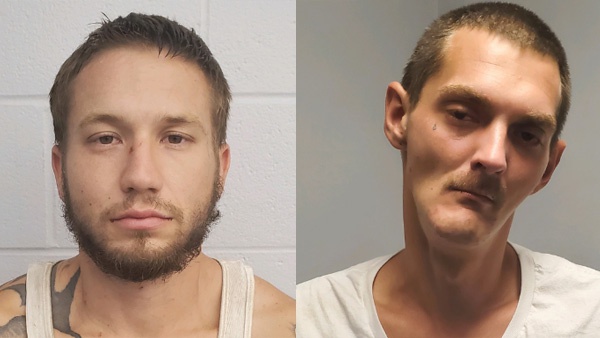 Photos provided by Kenton County Police.
(Kenton County, Ky.) – Two men have been arrested in connection to a string of recent burglaries.
Wesley Ulm, 27, of Independence, and Tanner Abdon, 26, of Glencoe, were taken into custody earlier this week by Kenton County Police.
Police had received numerous calls over the last couple weeks regarding a suspicious red Chevrolet Silverado in southern Kenton County.
The vehicle was suspected to be related to several burglaries and numerous attempted burglaries. Police located the vehicle on Wednesday.
Through the investigation, police identified Ulm and Abdon as possible occupants of the vehicle.
Both men are charged with one count of Burglary 1st degree (Class B Felony), and two counts of Attempted Burglary 2nd degree (Class A Misdemeanor).
Ulm and Abdon are held in Kenton County Detention Center awaiting their initial appearance in court.
The case remains under investigation.