Tom is the co-owner of DeVille Pharmacies.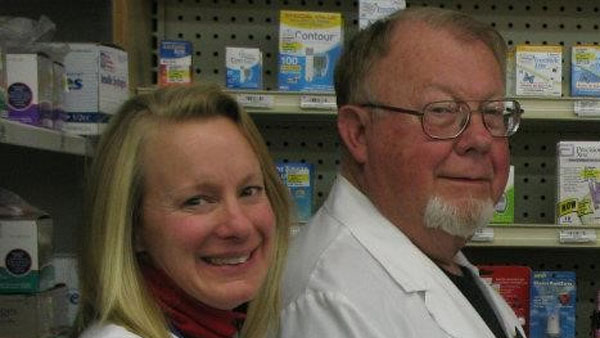 Photo provided.
(Dillsboro, Ind.) - Tom DeVille, co-owner of DeVille's Pharmacies, was the 2020 recipient of the Bowl of Hygeia. Established in 1958, the Bowl of Hygeia Award recognizes pharmacists who possess outstanding records of civic leadership in their communities and encourages pharmacists to take active roles in their communities. The award is presented annually by participating state pharmacy associations, including those in the District of Columbia and Puerto Rico. In addition to service through their local, state, and national pharmacy associations, award recipients devote their time, talent, and resources to a wide variety of causes and community service.
Mr. DeVille began his 58-year career in pharmacy following his graduation from Purdue University in 1962. He has served on Indiana Pharmacy Association boards and on the national level, NCPA and ASCP committees. His volunteer leadership is evident in the decades of service within his community. His memberships include the Dearborn County JayCees, Junior Chamber of Commerce, Dearborn/Ohio County Chamber of Commerce, Masons, Shriners, and the Dillsboro Civic Center. He President of Dillsboro Main Street, a past Director of Dearborn/Ohio County Chamber of Commerce and has served on the boards of Ohio County 4-H Extension and Dearborn County Community Mental Health. He is also a member of the Aurora First United Methodist Church, where he serves as treasurer, a member of the Finance Committee, and a member of the Administrative Council.
His pharmacy business was founded in 1982, when he bought a store in Dillsboro. A second location was opened in Rising Sun in 2010. Mr. DeVille is a Fellow of the American Society of Consultant Pharmacists and served an internship at McClean Hospital in Boston Massachusetts in Gero/Psyche Medicine. He is certified in Senior Care Pharmacy, Diabetes Care by the National Institute on Pharmacy Care and is a certified fitter of braces and surgical supports.
He and his wife, Charlotte, have been married for 54 years and reside in Aurora, Indiana. They have three children: Camille, Shelley and Matthew. Camille followed in her father's footsteps, graduating from Creighton University in 1994 and is the current co-owner of the family pharmacies.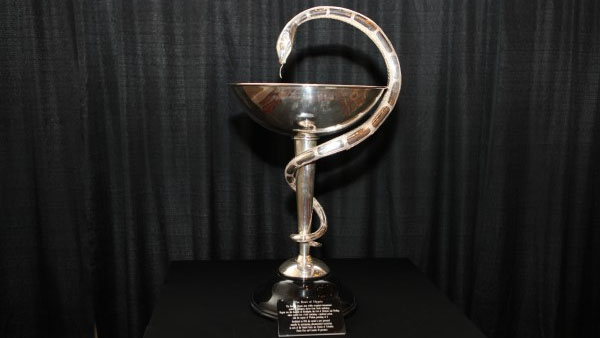 The Bowl of Hygeia. Photo provided.