Officers Lowe, Guidice and McKibbin all received these certificates.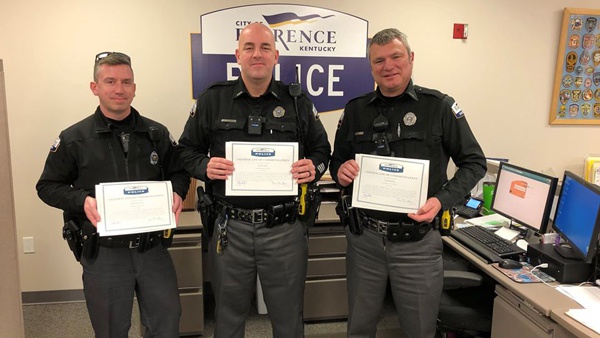 (Left to right: Officers Lowe, Guidice and McKibbin. Photo by Florence Police Department.)
(Florence, Ky.) - A good deed done by three police officers was recognized by the Florence Police Department on Wednesday.
On January 30, Officers Lowe, Guidice and McKibbin responded to a call of a dog that had been struck by a car on KY 18 in Florence.
The unknown driver of the vehicle that hit the dog did not stop to check on the dog or try to locate the dog's owner.
Upon arrival, it was discovered that that dog was deceased due to this collision.
The officers were able to locate the dog's owner, and assisted in delivering the dog to them.
Devastated by the loss of Bagel, the beloved pet to the owner's young son, officers stayed with the family and helped to make arrangements at an area business specializing in pets.
When the family arrived to pick up Bagel, they were given information that all services were paid for by one or all of the responding officers.
Whoever it was requested to remain anonymous.
The Florence Police Department found out about this good deed through a Facebook post.
Due to the officers' compassion and efforts above and beyond the normal call of duty, they each received a Certificate of Commendation from the Florence Police Department.