You'll find sweet treats and lunch items on the menu.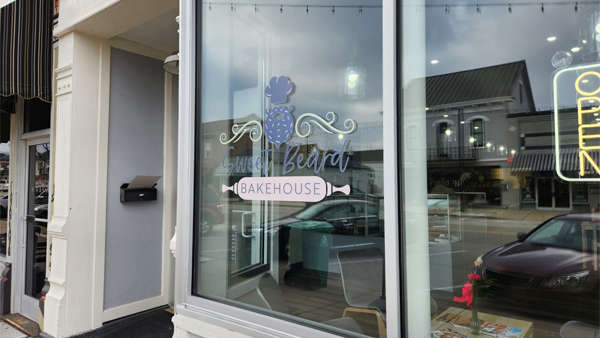 Photo by Travis Thayer, Eagle Country 99.3.
(Lawrenceburg, Ind.) - There is a new place to enjoy sweet treats in downtown Lawrenceburg.
Sweet Beard Bakehouse officially opened on Monday at 319 Walnut Street.
The owners, Garrett and Tracy Uhlman, have ties to Lawrenceburg. Both grew up locally and graduated from Lawrenceburg High School before earning degrees from Indiana University.
You'll find the Uhlmans at the Bakehouse between 7:00 a.m. and 3:00 p.m. Monday - Saturday.
Menu items include coffee, cold brew, cookies, brownies, danishes, scones, muffins, croissants, and overnight oats. Lunch items are also available including BLT Wrap, Mediterranean Wrap, Chicken Salad on Croissant, Turkey Apple & Cheddar on Ciabatta, and Pesto Chicken & Avocado Bacon Wrap.
All lunch items are grab-and-go. Visitors are welcome to dine in as well.
There is wi-fi and each table has an outlet for those who need to study or work. The space also features a side room that is capable of hosting birthday parties.
For more information about Sweet Beard Bakehouse, visit https://www.facebook.com/sweet.beardbakehouse.