Superintendent Andrew Jackson says mitigation strategies are working and the virus is not spreading in schools.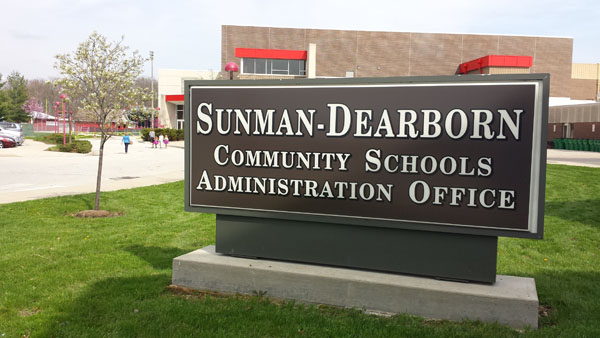 (St. Leon, Ind.) – Sunman-Dearborn Community School Corporation is staying the course with in-person instruction.
Superintendent Andrew Jackson made the announcement Wednesday in a letter to parents following the news that Dearborn County has entered "red" level for COVID-19 spread.
Jackson said that mitigation strategies are working at SDCSC, which was a big determining factor for continuing with traditional instruction.
So far, SDCSC has reported 14 students that have tested positive for COVID-19. Four of the 14 positive cases occurred before school started and the students did not attend school while contagious. Quarantining and contact tracing were required for the other 10 cases and no close contacts have become COVID-19 positive.
"While there is high community spread within the county, and students are becoming COVID-19 positive, it is not being spread at school."
HEAR DOUBLE T'S FULL INTERVIEW WITH SUPERINTENDENT JACKSON IN THE AUDIO PLAYER BELOW
Jackson says he has been working closely with the Dearborn County Health Department, Health Officer Dr. Stephen Eliason, and other Dearborn County Superintendents.
After considerable discussion this week, a determination was made that Sunman-Dearborn Schools can continue to maintain healthy and safe schools even after Dearborn County was designated in the Red category.
That means the school corporation will continue with traditional school for grades K-12.
However, attendance at extra-curricular activities will be limited according to the ISDH designation. Under the Red status, two tickets will be available per participant (student, athlete, band member, manager, etc.).
If the school corporation is forced to close, the current plan is to move to e-learning days for grades K-12 three days per week during an extended closure.
Jackson says administrators have discussed other ways to conduct school if schools are forced to close for an extended period of time.
"We know e-learning is difficult for parents, and particularly for working parents of young students. I will recommend some changes to our re-entry plan at the November 12th board meeting, based on the input I receive this week, and based on parent survey results from the summer," said Jackson.