State Road 56 was closed for more than an hour Wednesday.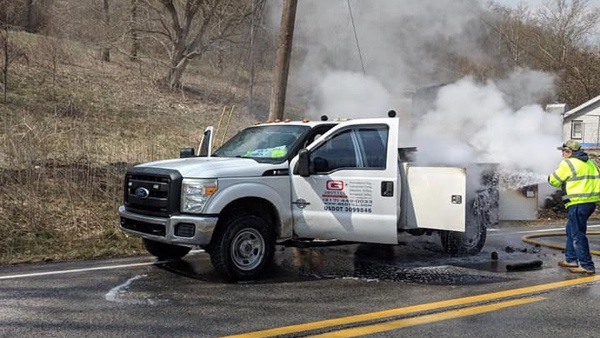 Photo by Ohio County Sheriff's Office.
(Ohio County, Ind.) - A truck fire led to a grass fire which shut down State Road 56 in Ohio County Wednesday.
The Ohio County Sheriff's Office says Blake Sumler, of Madison, was driving a commercial work truck on S.R. 56 near Thuermer Hollow Road just after noon. He and coworkers riding with him noticed smoke coming from the bed of the truck and pulled over.
The vehicle fire and dry conditions led to the grass along the highway catching fire.
Firefighters and a sheriff's deputy were on the scene quickly and helped to put out the fires. Nobody was injured.
The fire kept S.R. 56 closed for more than an hour.
Assisting at the scene were Rising Sun Police Department, Rising Sun Fire Department, Ohio County EMS, and Aurora Fire Department.
RELATED STORIES: