South Dearborn and Greensburg supporters came together for a great cause on Saturday night.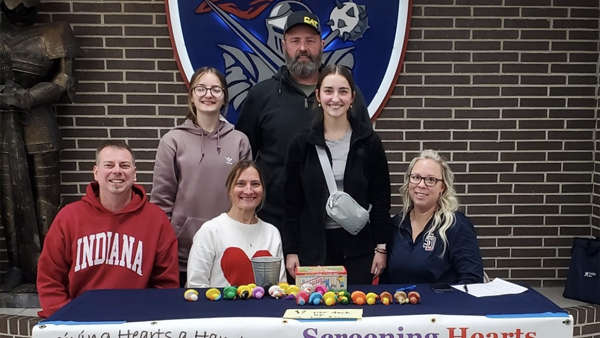 Photo by Giving Hearts a Hand.
(Aurora, Ind.) – A fundraiser to support heart screenings for South Dearborn athletes was a great success.
Over $1,600 was raised at the South Dearborn High School boys basketball game on Saturday night.
Senior Kiersten Dixon and her family coordinated the event, which featured a rubber duck toss at halftime of the varsity contest.
All proceeds from the event will benefit Giving Hearts a Hand, a non-profit organization that promotes heart awareness in area communities through funding cardiac screenings in high school athletes.
Dixon is a big supporter of the organization's mission after suffering sudden cardiac arrest on May 20, 2022.
Since the incident, three have been two full days of heart screenings at South Dearborn. Another screening event is scheduled for March 2.
The screenings are available to students ages 12 and over for a fee of $15. Appointments will take place during the school day and parents are not required to be present.
For more information and to register for a screening, visit https://mcorefoundation.org/scheduler_schedule/?school=355&fbclid=IwAR1pbuT7yFJIaawudRBQMya5m4stwyTv7R77wwWNsVkC5-F51G-A3DKl1vo.