The 41st U.S. President died Friday, November 30.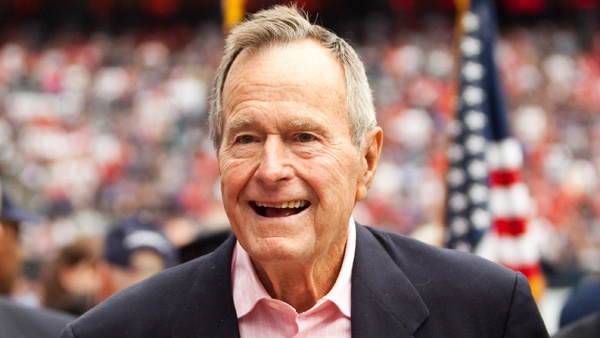 George H.W. Bush died Friday, November 30, 2018. Photo by AJ Guel, Flickr.
(Indianapolis, Ind.) - Flags across the U.S. and Eagle Country are being ordered to half-staff in recognition of the death of former President George H.W. Bush.
Indiana Governor Eric Holcomb gave that order for all government buildings in the state following Bush's death Friday at the age of 94. They will remain at half-staff for 30 days, in accordance with U.S. Code.
Indiana U.S. Senator Todd Young praised President Bush and his legacy upon learning of his passing.
"I join all Americans in mourning the passing of President George H.W. Bush – a man with an extraordinary record of service to our country. President Bush modeled exceptional character, humility, and resolve. He was a combat veteran, diplomat, and leader. As a naval aviator, he bravely risked his life in World War II. Before becoming Vice President and President, he served in the House of Representatives, represented our country in China and at the United Nations, and led the Central Intelligence Agency. During turbulent moments in our history, President Bush unified and steadied our nation and our allies in the pursuit of common purpose. He will be deeply missed, and I extend my sincerest condolences to the entire Bush family," Young said in a statement.
Democratic Indiana U.S. Senator Joe Donnelly tweeted out his condolences.
George H.W. Bush served our country with honor and distinction for more than forty years, while inspiring us all as a loving husband, father, and grandfather. His leadership and example made our country a better place. - Joehttps://t.co/dbU4oYsQZQ

— Senator Joe Donnelly (@SenDonnelly) December 1, 2018