Brewed Awakening is part of the JAG program at SDHS.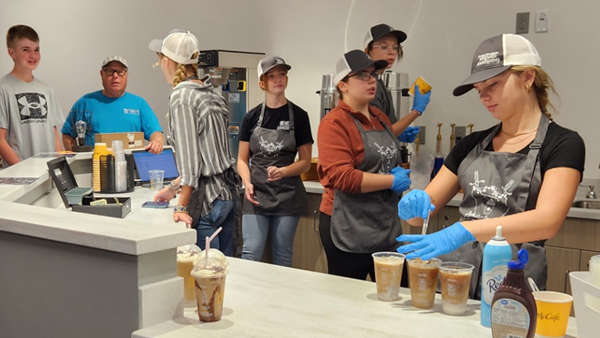 Brewed Awakening is a student run coffee shop at South Dearborn High School. Photo by Travis Thayer, Eagle Country 99.3.
(Aurora, Ind.) - They are not just making drinks.
Brewed Awakening at South Dearborn High School is so much more than that.
The student run coffee shop is operated by JAG students on Wednesdays and Fridays from 7:30 to 8:00 a.m. Aside from providing a 'sweet' service to fellow students, teachers, and faculty, the coffee shop acts as an important tool for students to gain employability skills.
"South Dearborn Community School Corporation has really given JAG students a Project Based Learning opportunity through Brewed Awakening to put into practice the competencies they are learning in class," said Monica Berry, JAG Specialist. "Ultimately, it perfectly aligns with the JAG model and its emphasis on student growth so that through this activity they are preparing for their future real-life jobs and better positioned for success in the workforce."
The Jobs for America's Graduates (JAG) program is a state-based, national non-profit organization dedicated to helping high school students of promise who have experienced challenging or traumatic life experiences achieve success through graduation. The resiliency-building workforce program helps students learn in-demand employability skills and provides a bridge to post-secondary education and career advancement opportunities.
Students who work at Brewed Awakening learn about inventory, money management, marketing, and working as a team, all while working in a fast-paced environment.
With the coffee shop only open for a 30 minute window, the menu has been streamlined so the students can make the drinks (iced, frapped, or hot) fast and get them out to teachers, faculty, and students.
Xandra Pettigrew serves as the general manager. She is in charge of putting together the schedule and training other students in the classroom before they get behind the counter. Juliette Hurst helps maintaining cleanliness, customer service and enthusiasm, while Leia Berry was seen Wednesday putting the finishing touches on drink orders - and making sure they got to the correct person.
Berry told Eagle Country 99.3 her favorite part of working at Brewed Awakening is helping others develop workforce skills and working behind the scenes.
"Here and outside of here I've been in the workforce for six years now, so its really nice to really help people that have never been in the workforce and really build those skills," said Berry "I'm also really big into computer design, so I love helping with the designs and making our aprons.
There are about a dozen students currently involved with Brewed Awakening. The hope is to open up the shop more throughout the week, but that is contingent on having enough students who want to be at school that early in the morning.
"It's a very safe and inclusive environment that you learn accountability and communication skills, which are both skills that are being lost in my generation," added Leia Berry.
South Dearborn's student run coffee shop is located in a brand new space off of the SDHS cafeteria. The space has not been entirely completed, but TVs are expected to go up as early as next week to show menu items, specialty items, fundraisers, and sponsors, such as McDonald's - whom provides all the cups used to serve patrons.
Proceeds go directly into the shop and/or the JAG program for the purchase of interview clothes, getting to competitions or field trips, and more.
Currently, there are 125 JAG programs available throughout Indiana. The program consistently graduates approximately 95 of participants and many students choose to continue their education after high school.
To learn more, visit https://www.in.gov/dwd/jag/.