A special red mailbox will be placed outside the Visitors Center.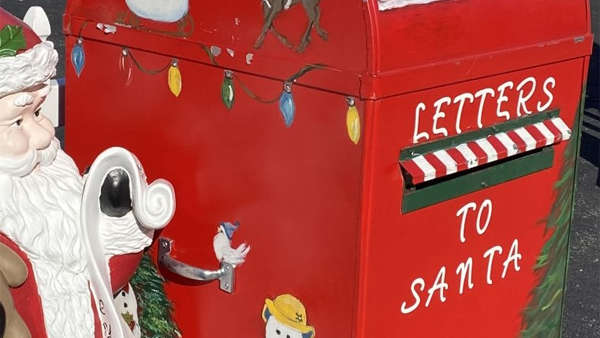 Photo provided.
(Rising Sun, Ind.) - If you want to send a letter to Santa Claus just look for the big red mail box in Rising Sun.
Rising Sun / Ohio County Tourism will accept letters for Santa at the Visitors Center at 217 N. High Street.
The red mailbox will be found outdoors near the sidewalk at Tourism's High Street location on or before November 28, 2023. The deadline to drop off letters is Tuesday, December 12, 2023 at midnight.
Youths may write letters on their own paper, pick up Santa form letters at the Visitors Center, or download them through the enjoyrisingsun.com website under the "News" tab.
No postage is necessary for letters placed in the special red mailbox at the High Street location. Letters sent by the United States Postal Service to the Visitors Center will require a first class stamp and should be addressed to Santa Claus, c/o Ohio County Tourism, PO Box 112, Rising Sun, IN 47040.
Santa requires that all letters have a name and return address if the sender wishes to receive a response. Letters received earlier than December 12 are more likely to receive a response before Christmas, although cannot be guaranteed because of high volumes of mail processed over the holidays.
For more information, contact Rising Sun/Ohio County Tourism at (812) 438-4933 on Tuesday-Friday from 10:00 a.m. to 4:30 p.m. Information on lodging, eateries, tourist attractions and events can be found on the enjoyrisingsun.com website, or by emailing kendal@enjoyrisingsun.com.