Four people had to be extricated from two vehicles following a wreck on Michigan Road Wednesday afternoon.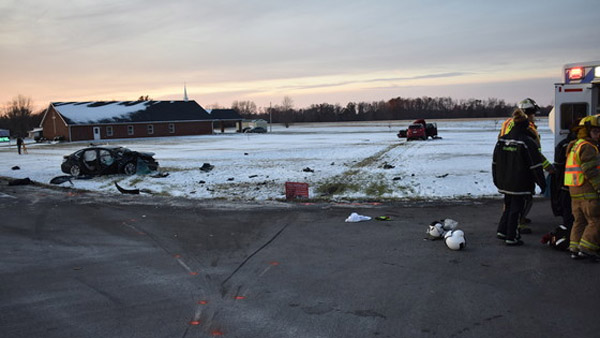 Photo by Indiana State Police.
(Holton, Ind.) - A Columbus woman has died from injuries sustained in a Ripley County crash.
Two vehicles were involved in the crash on Michigan Road at U.S. 50 near Holton around 4:00 p.m. Wednesday.
Indiana State Police say Marion W.T. Harding, 21, of Holton, was northbound on Michigan Road when he failed to yield to a vehicle driven by Craig A. Schneckenberger, 62, of Columbus.
Harding's vehicle entered onto U.S. 50 into the path of Schneckenberger's vehicle causing their vehicles to collide. Both vehicles left the roadway before coming to a rest in a field.
Schneckenberger was airlifted to Indiana University Methodist Hospital in Indianapolis with serious injuries. A passenger in his vehicle, Sally Schneckenberger, 61, was transported to King's Daughters' Hospital in Madison, where she passed away as result of injuries sustained in the crash.
Toxicology results on both drivers are pending at this time.
RELATED STORIES: