Nearly 50 allied professionals gathered to learn more about how to deal with strangulation and gun shot wounds.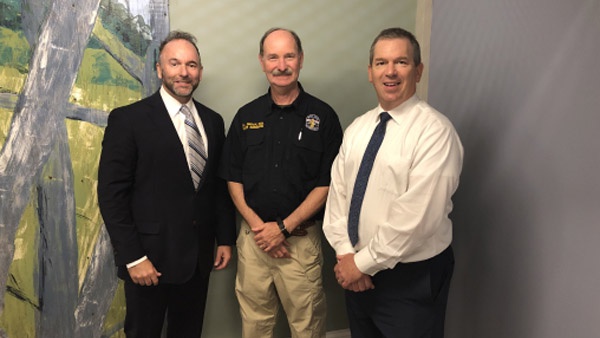 Ric Hertel, Dr. William Smock, Tim Putnam MMH CEO and President. Photo provided.
(Ripley County, Ind.) - In a collaborative effort, the Ripley County Prosecuting Attorney's Office and Margaret Mary Health (MMH) brought an internationally-recognized forensic expert on strangulation and gunshot wounds, William Smock M.D., to train area medical professionals, prosecutors, law enforcement and advocates. On August 26th, nearly 50 allied professionals gathered at the Big Four Café in Batesville to learn from Smock. Over the last 30 years, Smock has trained nurses, doctors, law enforcement officers and prosecutors in multiple fields, including officer-involved shootings, strangulation, gunshot wounds, and motor vehicle trauma all over the world. Dr. Smock is from southern Indiana and works as the Police Surgeon and Director of Clinical Forensic Medicine Program for the Louisville Metro Police Department. Additionally, Smock is a Clicinal Professor of Emergency Medicine at the University of Louisville and Chair of the Institute on Strangulation Prevention's National Medical Advisory Committee.
The first half of the multi-disciplinary training focused on enhancing the ability to detect, document, and ultimately prevent strangulation injuries, the most lethal indicator of domestic violence and sexual assault and the strongest predictor for a subsequent homicide of a domestic violence victim. Smock made clear that in many instances there are no marks or external injuries after a victim has been strangled. He provided many other factors an officer and/or medical professional can look for when assisting a potential strangulation victim when there is a lack of external injury. Further, he explained that even slight pressure to a person's neck can result in significant internal injury and even death and stressed the importance that professionals be extremely diligent when searching for these injuries.
During the second half, Smock focused on identifying and using forensic analysis to treat and review gunshot wounds. Smock emphasized that a forensic analysis of this information can assist an investigation in a multitude of ways, including a bullet's trajectory and how the bullet exited and/or entered a person's body.
Prosecuting Attorney, Ric Hertel, and MMH Chief Nursing Officer, Liz Leising, said this training has been in the works for several months and emphasized the benefits of law enforcement/prosecution and medical professionals training together when it comes to intentional injuries with the possibility of criminal implications. The protection of victims is the primary concern and a joint effort amongst law enforcement and the hospital will only assist in that goal. Hertel stated that there has always been a positive working relationship but to be in the same room learning from the same individual goes a long way toward relationship building, treatment of potential victims and the collection of more evidence for potential criminal prosecution.
According to statistics from the Indiana Prosecuting Attorneys Council, strangulation cases and filings ranked 4th among all criminal offenses filed in the State of Indiana in 2018. Domestic violence continues to increase in sheer numbers and severity of injury. Hertel stated that domestic violence cases are inherently volatile and a continued problem in our area. Both Hertel and Leising agree, given what's occurring in our State and community, we need to equip our professionals as best we can to address this problem.