The Ohio River at Cincinnati officialy entered flood stage Tuesday morning.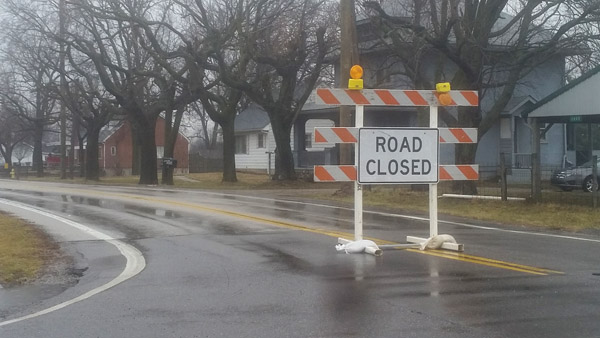 Lawrenceburg Road is shut down in Elizabethtown due to flooding. Photo by Mike Perleberg, Eagle Country 99.3.
(Aurora, Ind.) - Sandbags are now being given out in Aurora.
Dearborn County Emergency Management Director Jason Sullivan says sandbags and sand are available at the old Aurora firehouse on Second Street.
Homes and businesses along the riverfront in Aurora are making preparations as the Ohio River officially reached flood stage of 52 feet early Tuesday morning. It is currently expected to crest at a height of 56.3 feet, well into moderate flood stage, by Wednesday morning.
The waters will then recede. However, the river will remain above flood stage until at least Sunday according to current models. A Flood Warning is in effect for areas along the Ohio River until further notice.
The Great Miami River at Miamitown will get to flood stage of 16 feet this evening, then crest at just over 17 feet before returning to more normal levels by Thursday night.
Heavy rains which began Monday and won't stop until Tuesday night have prompted a Flood Advisory, which will remain in effect until 9:30 a.m. Tuesday. An additional one to 1 ½ inches of rain could fall today, according to the National Weather Service.
Flooded roads have forced Gallatin County Schools to close Tuesday. Many other communities are also dealing with the difficulties of flooding.
As the rain becomes heavier overnight, the levels on the Ohio River at Cincinnati will also be rising. Moderate Flood Stage is still anticipated with a crest of 56.3 feet late Tuesday night. Stay tuned! pic.twitter.com/1xrqtin7qA

— NWS Wilmington OH (@NWSILN) February 12, 2019
In Dearborn County, there are a few road closures due to high water. East Laughery Road, Cross Road, and Park Avenue in the Aurora area are shut down. Lawrenceburg Road between Suspension Bridge Road and Stephens Road in Hamilton County's Whitewater Township had to close again Monday.
Many other roads along low-lying areas could also be covered by water as the Ohio River rises. Cole Lane near Laughery Creek at the Dearborn-Ohio county line is partly covered by water Tuesday morning and is likely to be closed at some point Tuesday.
Sullivan says motorists should never drive through flooded roadways.
As the river level models currently predict, this round of flooding is currently not expected to reach the same level as February and March of 2018. Last year, the Ohio River crested at 60.5 feet, flooding numerous properties along the Ohio River and its tributaries.
Currently Dearborn County has the following roads closed due to flooding:

East Laughery
Cross Road
Park Avenue

City of Aurora has sandbags and sand available at the old firehouse #2 on Center St.

— Dearborn County EMA (@Dearborn_EMA) February 11, 2019