Over 15,000 people gathered on Tuesday to push lawmakers to make significant changes to education.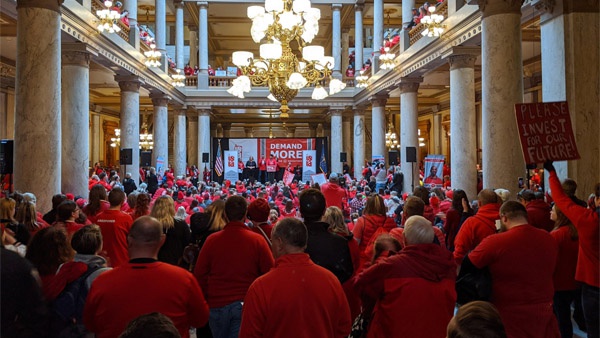 Photo by the Indiana State Teachers Association.
(Indianapolis, Ind.) - Thousands of educators, parents and community members gathered in Indianapolis on Tuesday to push lawmakers to make significant changes to education.
A majority of Indiana schools were closed Tuesday, allowing over 15,000 people to participate in the "Red for Ed" rally at the statehouse. The rally took place as state lawmakers were gathering for Organization Day, the official kick-off to the legislative session.
The goal is to have lawmakers make changes in education when they reconvene for the 2020 Legislative Session on January 6.
ISTA members are telling their stories to a packed Statehouse. The common theme: Enough is enough.#RedForEd #IamISTA pic.twitter.com/DCR0CkGEwy

— Indiana State Teachers Association (@ISTAmembers) November 19, 2019
One of the biggest issues education is facing is low pay for teachers. The thousands that rallied would also like for lawmakers to resolve issues with ILEARN and and how it impacts teacher evaluations and repealing externship requirements for teachers renewing their license.
State Superintendent of Public Instruction Jennifer McCormick named those same issues last week as her top priorities for the upcoming legislative session.
House Speaker Brian Bosma opened up Organization Day by recognizing the teachers and supporters at the Statehouse. He added that he endorses the end of the practice of evaluating teachers based on their students' test scores
Indiana State Teachers Association President Keith Gambill released the following statement after Tuesday's rally:
"ISTA's Red For Ed Action Day will go down in history as a significant turning point for public education in Indiana. Twenty-thousand educators, parents and community members rallied for investing the budget surplus in teacher compensation, holding students, teachers and communities harmless from ILEARN and repealing the unnecessary PGP/externship requirements for teachers.
Today also demonstrated that teachers are united behind a message of enough, is enough.
Although legislators didn't take action today, we will be watching in January for bold action for our students. ISTA is just getting started and our members will not stop fighting for their students and profession."
The 2020 Legislative Session will run January 6 through March 14.
RELATED STORIES:
State Superintendent McCormick Names Priorities For 2020 Legislative Session