People in areas prone to flash flooding should continue to be on alert all week.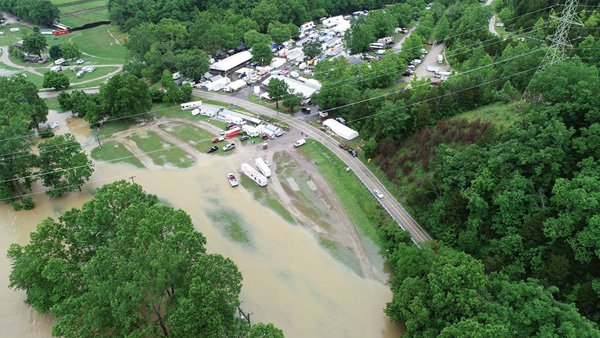 The Friendship Flea Market campground was flooded by a swollen Laughery Creek Sunday, June 16. Photo by Ripley County Emergency Management Agency.
(Lawrenceburg, Ind.) - Rain, rain won't go away any time really soon.
A very wet Fathers Day weekend continued a trend of wet weather this spring and summer. A record rainfall of 2.38 inches was measured Sunday in Cincinnati.
If you've been thinking that 2019 has been abnormally wet, you are not mistaken. In fact, 2019 has been one of the wettest years on record so far. The NWS says 32.61 inches of rainfall from January 1 through June 16 is the fourth-highest amount of any year's first 5 ½ months. The all-time high was 37.57 inches during the same period in 2011.
[5:18 AM] We may sound like a broken record here, but additional showers/storms with heavy rain potential are possible today through Tuesday afternoon. Flash flood watch has been expanded/extended to include entire local area. Greatest threat near and south/east of I-71 corridor! pic.twitter.com/AQt8OzfE3k

— NWS Wilmington OH (@NWSILN) June 17, 2019
More rain is expected off-and-on again Monday. A Flash Flood Watch remains in effect through Tuesday evening for the entire area.
A Flood Warning is in effect until 4:30 p.m. Monday for central Dearborn County, northern Boone County, northern Kenton County, and Hamilton County.
"Emergency management reported continued issues with landslides and lingering floodwaters across the warned area. Additional rainfall is expected tonight, and may be heavy enough to create new flooding. At the least, flood waters will be slower to recede given this expected rainfall," the NWS said.
Southern Ripley County and southwestern Dearborn County are both under a Flood Warning until 3:00 p.m. Monday due to flooding potential along Laughery Creek and in Friendship. The additional rain expected this week is likely to hamper any recovery, the weather service observed.
A look at the forecast for the days ahead shows little in the way for the tri-state area to dry out. A 60- to 80-percent chance of rain is in the forecast each day through Thursday.
We may finally get a respite on Friday when skies are currently forecast to be mostly sunny.
Local rainfall totals for 11:56 a.m. Saturday, June 15 until 11:56 a.m. on Sunday, June 16:
DEARBORN COUNTY
BRIGHT 2.4 N 4.68 IN
BRIGHT 3.5 NNW 3.40 IN
MOORES HILL 5.1 E 3.32 IN
WEISBURG 3.16 IN
MOORES HILL 3.0 ESE 3.15 IN
LAWRENCEBURG 2.91 IN
LAWRENCEBURG 3.1 WNW 2.84 IN
AURORA 3.9 W 2.54 IN
MOORES HILL 5.7 SSE 2.39 IN
FRANKLIN COUNTY
BROOKVILLE 2.95 IN
LAUREL 1.83 IN
BROOKVILLE 1.59 IN
OHIO COUNTY
AURORA 3.6 SSE 1.54 IN
RIPLEY COUNTY
BATESVILLE 4.3 SSW 3.93 IN
BATESVILLE 1.3 SW 3.30 IN
OSGOOD 4.1 NE 3.25 IN
BATESVILLE 0.4 SSW 3.15 IN
BATESVILLE 0.5 NNE 3.06 IN
VERSAILLES 2.62 IN
BATESVILLE 2.61 IN
FRIENDSHIP 1.93 IN
HAMILTON COUNTY
CLEVES 3.83 IN
ADDYSTON 3.41 IN
MIAMI WHITEWATER 3.09 IN
HARRISON 2.42 IN
HARRISON 1.0 NW 2.40 IN
HARRISON 2.5 NNE 2.37 IN
BOONE COUNTY
HEBRON 2.0 N 3.55 IN
BURLINGTON 0.4 SW 2.12 IN
FLORENCE 2.02 IN
WATERLOO 1.93 IN
BURLINGTON 4 S 1.80 IN
BIG BONE 1.33 IN
WALTON 2.5 NW 1.32 IN
FLORENCE 1.30 IN
GALLATIN COUNTY
GLENCOE 2.4 NW 1.21 IN
RELATED STORIES: