The second round of grant recipients were announced during the Ripley County Community Foundation's Annual Day of Giving.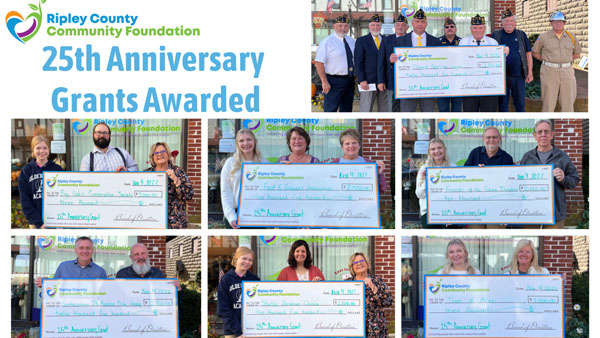 Photo provided.
(Ripley County, Ind.) - 2022 marks the Ripley County Community Foundation's 25th anniversary. In honor of that milestone, the Board of Directors launched the 25th Anniversary Impact Grants. This opportunity made $100,000 available to assist local organizations in implementing a project or program that will: 1) create a sustainable impact amongst one or more communities, 2) establish cross-community or cross-county partnerships, and 3) closely align with at least one the Community Foundation's four service areas; Arts & Culture, Business & Entrepreneurship, Environment & Natural Resources, and Health, Education & Well-Being. The second round of grant recipients were announced on November 4th during the Ripley County Community Foundation's Annual Day of Giving, with $50,000 being awarded to 7 nonprofits.
The Food and Growers Association, Inc. (FGA) and Shelby Christian Church each received a $2,500 grant. This grant funding will allow the FGA to provide educational programming to teach families how to enhance their physical and mental well-being through gardening. Shelby Christian Church will use the funding to make its facility accessible to individuals with physical disabilities and thereby more accessible to the public during non-denominational community events.
Big Oaks Conservation Society was awarded $3,000 to build a kayak and paddle sports dock at Old Timers Lake located in Big Oaks National Wildlife Refuge. This project will expand the outdoor recreational facilities available in Ripley County's land preserves.
The Town of Milan was granted $7,000 to assist with the development of a "basketball district" which will leverage the Milan Miracle to revitalize downtown Milan. Specifically, grant funding will be used to customize streetlights into basketball themed light poles.
Friends of the Gibson was granted $10,000 to support a seat renovation project in the 100-year-old iconic Gibson Theatre. This renovation project will add handicap accessible seating and new theater-style seating for all to enjoy.
The sum of $12,500 was awarded to the 5 American Legion Posts and the 2 VFW Posts serving Ripley County, Indiana. This grant will outfit the "Color Guard" units that volunteer their time to provide graveside services at veteran's funerals, or to present the flag at parades and special events.
The Southeastern Indiana Mountain Bike Association received a $12,500 grant to finish the Next Level Trail project within the Versailles State Park. Once completed, this project will add 8 miles of additional mountain bike trails which will allow the park to be deemed a "destination hub."
"The Community Foundation is honored that it was able to use its 25th Anniversary to preserve Ripley County's culture, expand the opportunities to enjoy the local landscape, and to make our community more inclusive," stated Amy Streator, Executive Director of the Ripley County Community Foundation. Streator further noted, "We appreciate the efforts of our 25th Anniversary Grant recipients as they strive to keep Ripley County vibrant and look forward to seeing the impact of their work in 2023."
The Ripley County Community Foundation is committed to Connecting People Who Care with Causes that Matter and is located at 13 E. George Street, Suite B, Batesville. To learn how you can invest in the future of Ripley County, or to leave your legacy, contact the Ripley County Community Foundation at (812) 933-1098 or visit www.rccfonline.org.