The foundation distributed more than $130,000 in first quarter grants.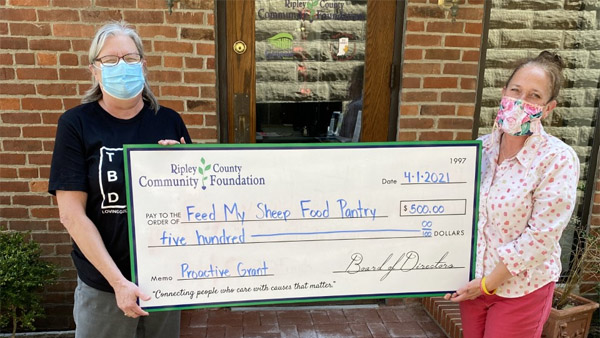 Feed My Sheep Food Pantry is one of eight food pantries to receive funding. Photo provided.
(Ripley County, Ind.) - In the first quarter of 2021 (January 1st to March 31st), the Ripley County Community Foundation granted $130,364.26 to nonprofit organizations across the local communities in Ripley County. With overflowing success in the first quarter, the Community Foundation was able to go above and beyond with carrying out its mission, which is, "to assist donors in building an enduring source of charitable assets to benefit the citizens and qualified organizations of Ripley County."
The Ripley County Community Foundation made it a priority in the first quarter to grant to need-based organizations. Thus, the eight food pantries in Ripley County were proactively granted out $500.00 and can expect to receive an additional $500.00 in the upcoming months. Additionally, grants were distributed to schools to assist with general school maintenance and support scholarship opportunities. The Jac-Cen-Del Scholarship Foundation received $24,123.22 to give out scholarships to deserving and hardworking students.
Amy Streator, Executive Director of the Ripley County Community Foundation, states, "The grants given out by the Ripley County Community Foundation reflect the generosity of our donors. Our mission is to develop long term sustainability for our area, and the grants distributed in the first quarter did exactly that."
The purpose of the Community Foundation's grants are to improve the quality of life and create opportunities in our community. So Loved Closet received $500.00 to support their Back to School Program, which will help buy clothes for children in need, and the Tyson Library Association received $280.00 for general operations. The Southeastern Indiana YMCA received $7,767.63 to assist with general operations and the purchase of additional equipment, while the Ripley County Board of Commissioners were tasked with easing the burdens of the government and received $9,000 for operations.
Within the first quarter of 2021, the Ripley County Community Foundation was successful in, "Connecting People Who Care with Causes that Matter," thanks to donors like you. If you wish to leave your legacy or support the causes closest to you, donate online at www.rccfonline.org or visit the Community Foundation's office at 13 East George Street, Suite B, Batesville, IN 47006.