Greendale Police released their crash report this afternoon.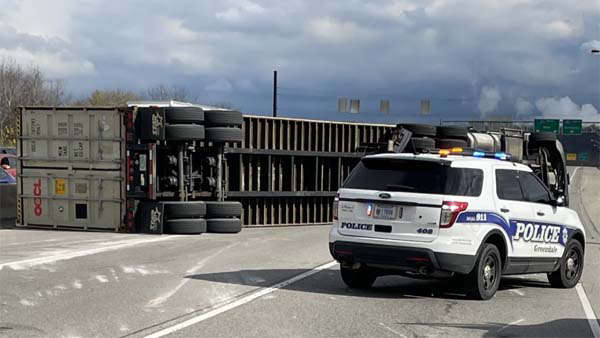 Photo by Greendale Police.
(Greendale, Ind.) – Greendale Police have released their findings from a semi-tractor trailer rollover crash that shut down the Interstate 275 ramp on Monday afternoon.
Officers responded to the crash around 2:49 p.m. where the semi-tuck was merging from U.S. 50 east to the I-275 ramp.
The driver, Nora N. Chhay, 43, of Liberty Township, Ohio, admitted to traveling too fast to safely make the sharp right hand turn on to the ramp and lost control of the tractor and trailer.
The semi flipped on it's left side and blocked all lanes of travel.
The outbound ramp was closed for approximately three hours while crews cleaned up the roadway.
Chhay was transported to St. Elizabeth Dearborn and was later transferred to UC Medical Center with a possible head injury. He was last known to be in stable condition.
Greendale Police issued Chhay with a citation for speed greater than reasonable under conditions.