Come out, jump in the frigid water and help support Special Olympics Indiana.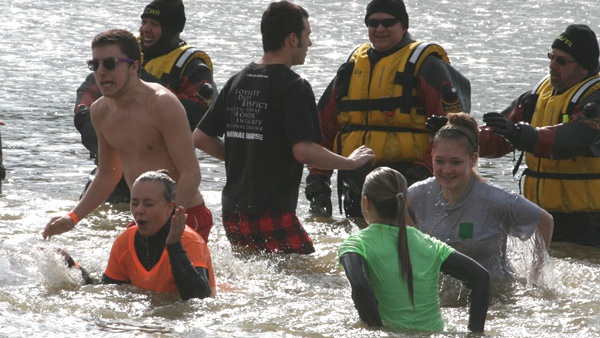 (Versailles, Ind.) - Supporters in Versailles and surrounding communities will come together again this winter to raise money and awareness for Special Olympics Indiana by taking part in the organization's annual Polar Plunge and Polar Climb fundraiser on Saturday, Feb. 16.

On-site registration for the event will take place near the boat ramp at Versailles State Park (1387 US-50) beginning at 10:30 a.m. for the Polar Climb 5K Run/3K Walk and at 11:30 a.m. for the Polar Plunge. Runners will take their marks at 11 a.m., while Plunge participants will enter the lake beginning at 2 p.m.

Special Olympics Indiana's signature fundraiser, the Polar Plunge is a series of exhilarating events held each winter where individuals and teams brave the elements by taking an icy dip to demonstrate their commitment to the cause. Celebrating 50 years of changing lives in 2019 and now serving more than 16,000 people across the state each year, Special Olympics Indiana is aiming to raise at least $1 million through the Polar Plunge season for the first time in its history. All funds raised will directly benefit current and future Special Olympics athletes.

"We recognize that this is a special moment in our history and we're planning big things for both our 50th anniversary and for the future of the Special Olympics movement in Indiana," said President and CEO Jeff Mohler. "The Polar Plunge is our most important fundraiser each year, and we know that in order for us to reach our goals and to involve even more people who could benefit from our services, our supporters around the state will need to pull together this winter to raise more than ever before."

To participate in the Polar Plunge, individuals must raise a minimum of $75 ($50 with a student ID) in pledges, with awards presented to top fundraising teams and individuals. Participants can register as individuals or gather friends, family members, co-workers, or others and register as a team.

The Versailles Polar Plunge will feature a heated festival tent at the park offering games, live entertainment, a food court, and the always-popular "After Splash Bash," where additional prizes will be awarded as participants warm up with food and beverages. Spectators and guests are welcome throughout.

Those interested in supporting the event and raising money without getting wet are invited to register as "virtual plungers" or to instead take part in the Polar Climb 5K Run/3K Walk. Details, fees, and registration information for the run/walk are available at www.soindiana-rod.org/polar-climb.

Special Olympics Indiana 6200 Technology Center Dr. Suite 105, Indianapolis, IN 46278 Tel +1 317 328 2000 Fax +1 317 328 2018 www.soindiana.org Email information@soindiana.org Facebook @soindiana Twitter @soindiana
Created by the Joseph P. Kennedy Foundation for the benefit of persons with intellectual disabilities.
To date, the Polar Plunge has raised over $6 million in support of Special Olympics Indiana's year-round programs and events, including more than $800,000 in 2018. More than 3,000 individuals are expected to take the plunge this year, with a total of 18 separate events scheduled in cities and towns across the state.

The Polar Plunge is presented by the Law Enforcement Torch Run to Benefit Special Olympics and is sponsored statewide by Toyota Motor Manufacturing of Indiana and Duke Energy, among others. Additional support for the Versailles Plunge has been provided locally by Eagle Country 99.3 FM, WRBI 103.9 FM, Register Publications, The Versailles Republican, and the Osgood Journal.

To learn more about the Polar Plunge or to register or make a contribution in support of a participating individual or team, visit www.PolarPlungeIN.org.