The fire broke out on Cobb Road around 8:41 p.m.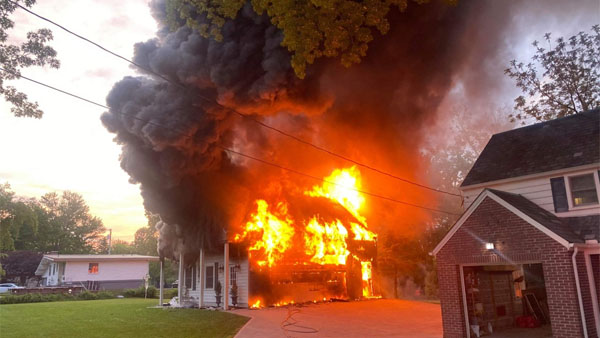 Photo by Aurora Fire Rescue.
(Aurora, Ind.) – Firefighters were called to a structure fire in Aurora on Monday night.
Aurora Fire Rescue, Lawrenceburg Fire and Aurora EMS responded to the 300 block of Cobb Road around 8:41 p.m.
Upon arrival, crews found a detached garage fully engulfed in flames. Crews initially put used 1,000 gallons of water on nearby homes in attempt to prevent the fire from spreading while additional crews and tankers were in route.
According to Aurora Fire Rescue, all residents were evacuated from the home, and no injuries were reported.
While the main fire was contained to the detached garage, three nearby homes suffered damage to their siding or roof.
The cause of the fire remains under investigation.
Departments assisting at the scene were Aurora Police, Aurora Utilities, and Duke Energy.