A three-day Early-Bird Pool Pass Registration Event will take place later this month.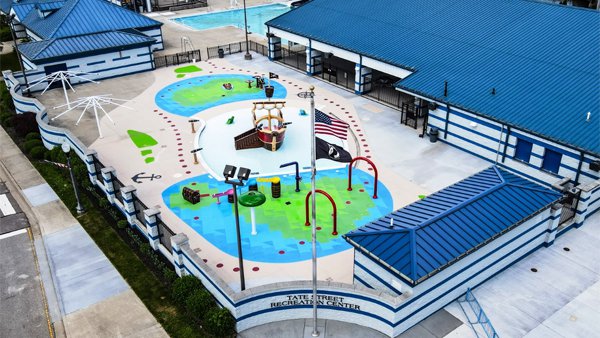 Photo provided by the City of Lawrenceburg.
Update: The Pat O'Neill Memorial Poil and Splash Park will now open Monday, May 31 due to weather.
(Lawrenceburg, Ind.) - The City of Lawrenceburg has announced an open date for Pat O'Neill Memorial Pool and Splash Park.
The city pool will open on Saturday, May 29 and will remain open through August 1.
An Early-Bird Pool Pass Registration Event will be held at the pool on W. Tate Street on the following dates:
Saturday May 22nd 11 am–3 pm
Tuesday May 25th 2-7 pm
Thursday May 27th 2-7 pm
Admission
Free to residents of the City of Lawrenceburg (must fill out an application, have a photo ID, and proof of residency i.e., current utility bill, phone bill, cable bill, or other type of monthly billing statement).
Non-residents: $5.00 daily admission, $50.00 for individual pass per season or $150.00 for family pass per season up to 4 people (You may add 2 additional on a pass for $35.00 per person).
Senior Discount of $2.00 for daily admission or $25.00 for an individual pass per season (Age 60 & over).
There will be no concession available this year. Guest may bring coolers with food and non-alcoholic drinks (glass bottles prohibited).All children must be accompanied by an adult or guardian for pool pass registration.A full list of Pool Rules can be found at www.THINKLAWRENCEBURG.com.
On COVID-19, the City of Lawrenceburg made the following statement:
The danger of contracting COVID-19 and spreading the virus to others exists if you choose to enter this aquatic facility. By entering this facility, you are assuming the risk of contracting COVID-19. If you are an adult allowing your child to enter the facility, you are assuming the risk that your child may contract COVID-19. The City of Lawrenceburg has taken precautions based on Federal, State and County health regulations related to COVID-19 to make this facility as safe as possible, but the City of Lawrenceburg cannot eliminate the possibility that guests to this facility may be exposed to COVID-19. The City of Lawrenceburg has implemented a Clean, Safe & Healthy campaign for COVID-19 mitigation efforts that will continue during all Pool Seasons. Therefore, you expressly assume the risk that you may contract COVID-19 and infect others and hold the City of Lawrenceburg harmless for that risk and any injury or damage that may result.
Individual waiver, signage and handouts will be available as an added protection for residents participating in recreational pool & swimming activities.
Swim Lessons and Pool/Splash Park Rentals are also available.
For more information, visit www.thinklawrenceburg.com.