The road which connects Nowlin and Ridge avenues in Greendale is getting a face lift.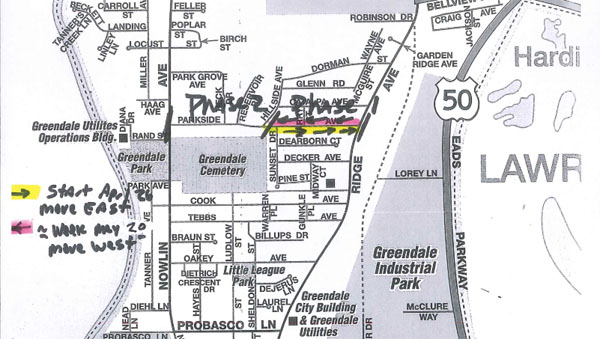 Photo provided by Greendale City Manager Steve Lampert.
(Greendale, Ind.) – Parkside Avenue in Greendale is set for an upgrade.
The City of Greendale says Rohe Paving will begin reconstruction of Parkside Avenue between Ridge Avenue and Nowlin Avenue on Friday, April 26.
Work during Phase I of the project will occur from Ridge Avenue to Hillside Avenue. Contractors will begin saw cutting curb and drive approaches on Friday, which will require all cars from Hillside to Ridge to be moved off the street.
A few areas on the north side of the project will also require no parking. Sycamore Gas has started to relocate gas lines on the north side of the project between Harry Street and Hillside.
"We known parking and access to drives will be an ongoing issue," said Steve Lampert, city manager. "We will do our best to use door knockers and verbal communication to give advanced warning when the work will affect your property."
Contractors hope to start Phase II of the project around the week of May 20-24. At that time, work will occur from Hillside Avenue to Nowlin Avenue.
Anyone with questions or concerns may direct them to Gary Davidson at 513-687-9412 or Steve Lampert at 812-537-2125.