A grandmother says she made a startling discovery in her five-month-old grandson's car seat.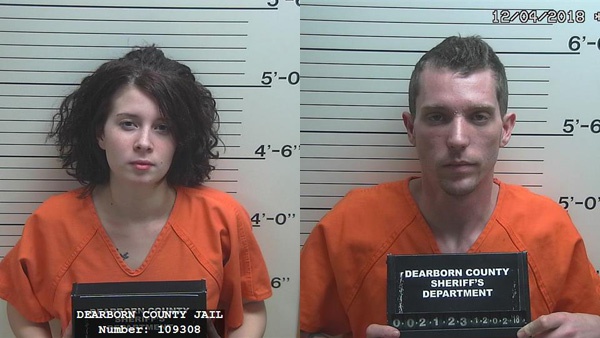 Baylee Johnston and Kristofer Carey. Photos by Dearborn County Sheriff's Department.
(Lawrenceburg, Ind.) - A couple are in jail after methamphetamine was allegedly found in a child's car seat.
The child's grandmother called Lawrenceburg Police on December 2nd after discovering meth in a crumpled up dollar bill in her five-month-old grandson's baby seat at her apartment on Sycamore Estates Drive.
The child's parents are 19-year-old Baylee Johnston, 19, of Brookville and Kristofer Carey, 29, Lawrenceburg. The grandmother said she had picked up the two and their child about an hour earlier and could tell the two adults were high.
Johnston allegedly ran from the apartment after being confronted about the meth found in the baby seat.
They are charged with Possession of Methamphetamine (level 6 felony) and Neglect of a Dependent (level 6 felony). Carey faces an additional charge of Possession of Paraphernalia (class C misdemeanor).
A jury trial for the two has been scheduled for May 13, 2019.