Gage Pace will focus on business retention and expansion, among other job duties.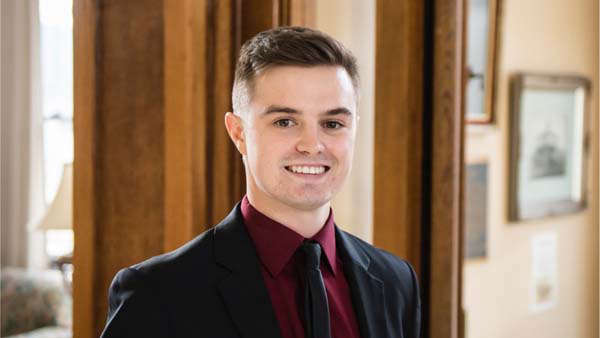 Gage Pace. Photo provided.
(Lawrenceburg, Ind.) - One Dearborn is welcoming Indiana University graduate Gage Pace to its economic development team promoting Dearborn County for new investment and talent.
In his new role as economic development manager, Pace will focus on business retention and expansion, maintaining site inventory, up and coming agricultural opportunities, alternative energy opportunities such as solar, placemaking, and more.
"By adding Gage, One Dearborn is increasing our organization's capacity to serve and support the economic and community development priorities of Dearborn County. Gage brings enthusiasm and even experience in successfully capturing grants with organizations he has volunteered with. We can't wait to see what he can do for our county in a full-time role," says One Dearborn Board of Directors President Michael Schwebler.
Although young at 25, Pace is not new to community and economic development. As a graduate of Indiana University's School of Public and Environmental Affairs in 2019 he completed coursework in community and economic development in rural and urban Indiana. Post-graduation, Pace has experience as a grant writer for his hometown of Franklin County as well as serving as Vice President to Main Street Brookville.
Pace started the new position in June 2022. One Dearborn employed Pace as a part time contracted employee from January through May of 2022. The organization looks forward to supporting Pace as he further applies his skills toward growth and placemaking in Dearborn County.
"I've learned so much over the past six months at One Dearborn. I'm excited to take what I've learned and further apply it as well as gain new experiences in economic development," Pace says.
For more information on One Dearborn visit www.1dearborn.org.