Aftab Pureval says Thursday's findings by the commission have exonerated his campaign.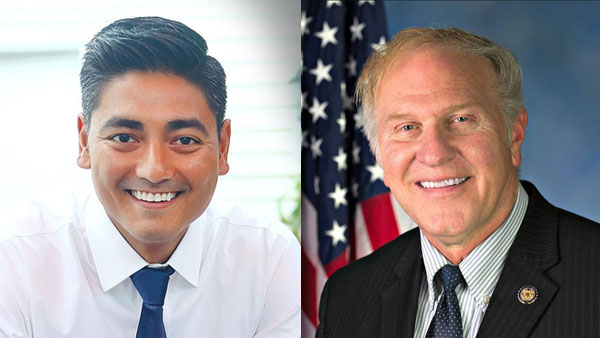 Aftab Pureval (left) and Steve Chabot are running for Congress in Ohio's First District.
(Hamilton County, Oh.) - Hamilton County Clerk of Courts Aftab Pureval is clear of charges stemming from an alleged campaign finance violation.
The Ohio Elections Commission cleared Pureval of wrongdoing in two of three campaign finance violations considered at a hearing Thursday. The decisions remove much of the cloud that has hovered over the Democrat's congressional campaign for weeks.
Pureval's campaign was accused of using $16,000 from his county clerk of courts campaign fund to pay for polling in his race against Ohio First District Congressman Steve Chabot. That allegation was dismissed.
"The poll would tell us whether a path forward for the Congressional campaign made sense or whether we should stay put at the Clerk of Courts," Pureval told reporters after the hearing. "Based on the results of the poll, it looked like a Congressional campaign, that there was viability for it. If the results had been different, I would have stayed put."
However, the commission did fine Pureval's campaign $100 over payment to a photographer. The fine was issued for a $360 payment for a photo shoot for his congressional campaign, which the clerk of courts campaign fund paid for.
"Don't believe any attempt by Aftab Pureval to claim that he was exonerated. He wasn't. He was convicted on one charge and the commission failed to reach a verdict on the other," Chabot campaign spokesman Cody Rizzuto said in a statement.
Just a day before his hearing, Pureval fired his campaign manager and two staffers after allegations surfaced that a campaign volunteer infiltrated the Chabot campaign.
RELATED STORIES:
Pureval Lawyers Won't Delay Election Commission Hearing
Redacted Check Memo Line Lands Aftab Pureval In Hot Water
Hamilton Co. Clerk Pureval Wants To Challenge Chabot For Congress