All board members expressed support for Rohrig and look forward to his leadership.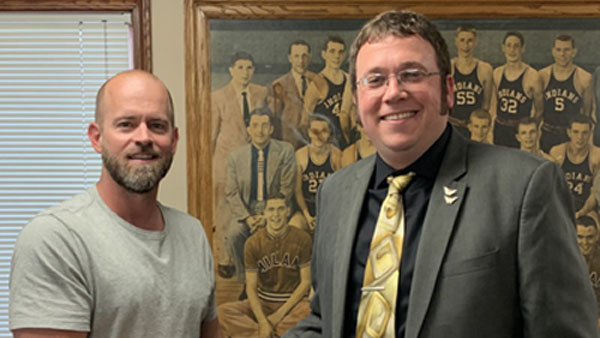 Board president Doug Norman and new Milan Elementary Principal Travis Rohrig. Photo provided.
(Milan, Ind.) - Milan Elementary School has a new principal.
The Milan Community Board of School Trustees approved the hiring of Travis Rohrig at a special session on Wednesday.
Rohrig currently serves as a math teacher at Milan High School and has previous elementary school experience.
He will fill the principal vacancy left by Cinda Ahlrich, who recently accepted the role of Director of Accelerated Learning for grades K-6 in Milan.
Superintendent, Jane Rogers says, "I believe Mr. Rohrig is a strong addition to our administrative team. He displays a love of learning and a desire to help everyone be the best they can be."
Rohrig's first day on the job will be July 1.
In other business, the board heard a presentation on how the school corporation can stay within budget during upcoming renovations at the middle and high schools. The board will continue to receive monthly updates during summer construction.
The next regularly scheduled board meeting will be Monday, June 21, at the Central Office of Milan Community School.