CBD oil, sex education, and eyeball tattooing are the targets of some new Indiana laws which took effect July 1, 2018.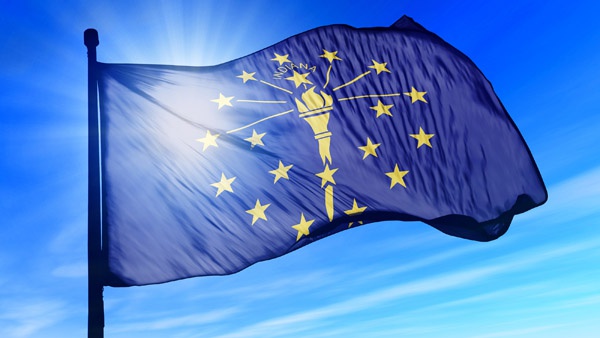 (Lawrenceburg, Ind.) - Dozens of new laws went into effect in Indiana on Sunday.
Some laws approved by the Indiana General Assembly earlier this year - like legal Sunday retail alcohol – have already kicked in. Most new laws, however, took effect July 1.
A full list of all bills signed into law this year can be found at https://www.in.gov/gov/2966.htm.
Eyeball tattooing
Senate Enrolled Act 158 prohibits the act of performing scleral tattooing, simply defined as tattooing the white portion of a person's eyeball. The procedure can only be legally performed by a licensed health care professional if it is within the professional's scope of practice. Lawmakers backing the law reasoned that eyeball tattooing has resulted in a number of cases nationwide causing eye infections or loss of sight. Tattoo artists who perform the act can be fined up to $10,000 per violation.
Airbnb home rentals
Local governments in Indiana are no longer allowed allowed to enact ordinances prohibiting homeowners from renting out their homes for short stays using websites like Airbnb. The new law does allow local governments to require permits and fees up to $150 from homeowners for allowing a short-term rental. Rentals are capped at 30 consecutive days or no more than 180 days each year.
State insect
Until now, Indiana did not have an official state insect. The Say's Firefly nomination was pushed by a group of students at Cumberland Elementary School in West Lafayette, with the powerful backing of Governor Eric Holcomb. Thomas Say, known as the father of American entomology, found the bug in 1826 while he was living in the southwestern Indiana town of New Harmony in Posey County.
Sex education
Senate Enrolled Act 65 requires schools to seek written consent from a student's parent or guardian before providing lessons on human sexuality. A parent may refuse permission for their child, but children of parents who do not respond will be allowed to receive the lessons. Consent forms can be sent home with a student or directly to a parent via email.
CBD oil
Part of this law took effect immediately upon its signing by Governor Eric Holcomb in March. A low-THC hemp extract can now be legally sold and used to treat various health conditions, such as epilepsy and arthritis. Retailers may only sell CBD products that are derived from industrial hemp and not marijuana. Products must comply with state testing and packaging requirements. Stores selling marijuana disguised as CBD oil can be charged with a level 5 felony and face a $10,000 fine. Individuals possessing marijuana disguised as the oil can be charged with a misdemeanor.
Drug dealer sentencing
A prison sentence of 50 years could be given to drug dealers who deal illegal substances to users who later fatally overdose on the batch. Currently, only a 30-year sentence can be given in cases where the dealer is found to have dealt at least 10 grams of a drug. The new law removes any drug weight requirement. The offense would be a level 1 felony for cocaine, methamphetamine, or a schedule I, II or III drug causing death. Schedule IV drug overdoses would net a level 2 felony charge punishable by up to 30 years.
Opioid abuse combating laws
Like many states, Indiana continues to try and slow the opioid abuse epidemic. Doctors are now required to check a database before prescribing more opiates to a patient asking for a refill, to check how many times that person has been prescribed opioids. Another law, SEA 139, will require Indiana's county coroners to collect and report more data about drug overdose deaths. Another law seeks to increase the number of drug treatment locations in the state.
Colored headlights
Vehicle headlights in Indiana can only be one of two colors starting July 1. Headlights must be either white or amber. The new law bans popular headlight colors such as red, blue, green and yellow on the front of vehicles. Stop lamps or taillights must all be red and license plate lights can only be white. Emergency vehicles are exempt from the law.
Property lines
Indiana's so-called "Purple Paint Law" allows property owners to signal that no trespassing is permitted on their land by slapping on a vertical line of purple paint on fence posts or trees. The law can save costs and hassle of putting up or replacing "no trespassing" signs. According to the law, the lines placed on trees must be vertical, at least eight inches long, with the bottom of the line between three and five feet from the ground, and less than 100 feet apart. On posts, the purple lines must at least cover the top two inches of the post, at least three feet up to 5 ½ feet from the ground, and no more than 36 feet apart.
Notary public licensing
Under this new law, Bond requirements for notary publics registered in Indiana has increased from $5,000 up to $25,000. According to the Indiana Secretary of State, by raising the bond, notaries will be able to cover expenses that may occur as a result of an improper notarization and clients will be able to recover for damages due to fraudulent acts. All notaries public commissioned before July 1, 2018 will be grandfathered in for the duration of their current commission. Notaries can now charge up to $10 for each signature.