Indiana is no longer without an official state insect.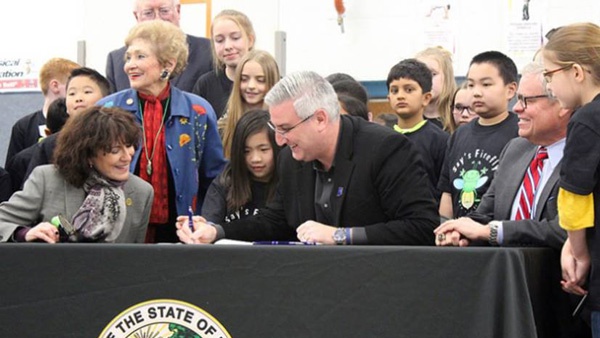 Indiana Governor Eric Holcomb and Cumberland Elementary student Kayla Xu sign SEA 236. Bill author state Sen. Ron Alting and bill sponsors Reps. Siegrist and Klinker look on with Cumberland Elementary students. Photo provided.
(West Lafayette, Ind.) - Indiana is no longer without an official state insect. Governor Eric Holcomb on Friday went to Cumberland Elementary School in West Lafayette to sign a new law, Senate Enrolled Act 236. It names the Say's Firefly as Indiana's official state insect.
Official Indiana Symbols
Flower: Peony
Tree: Tulip
Bird: Cardinal
Stone: Limestone
River: Wabash River
Pie: Sugar Cream Pie
Poem: "Indiana" by Arthur Franklin Mapes
Song: "On the Banks of the Wabash, Far Away" by Paul Dresser
Rifle: Grouseland rifle
Motto: The Crossroads of America
Students at the school have pushed for years to get the unique, Indiana firefly named the state's insect.
"The perseverance shown by these Hoosier students is inspiring—to kids and adults alike. After years of advocating for this bill, we're all aflutter to make it official today," Holcomb said.
The governor said the students got an immersive experience in government, science, art, public speaker, and more – lessons he hopes they will put to work in their communities throughout their lives.
"Their futures are flashing and bright," Holcomb quipped.
Say's Firefly is named for Thomas Say. Known as the father of American entomology, Say found the bug – scientifically named Pyractomena angulate – back in 1826 while he was living in the southwestern Indiana town of New Harmony in Posey County.
The lightning bug is neither a fly nor a bug. Rather it is a soft-bodied beetle that produces light through a complex chemical reaction in special cells near the end of its abdomen. Male fireflies use their flashes to attract females, who respond with flashes of their own.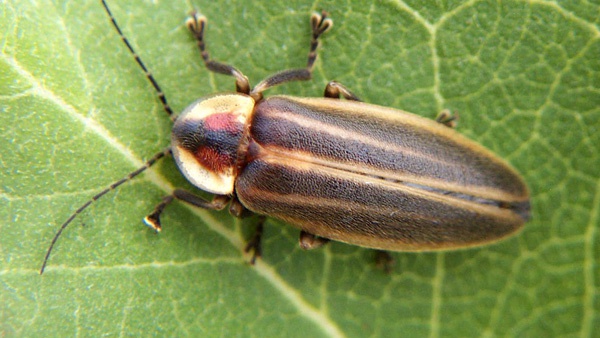 Say's firefly