The case dates back to July of 2017.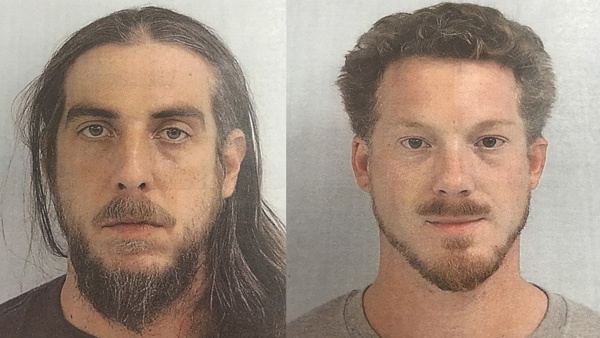 The cases against James A. Trimnell (left) and Nathaniel Walmsley have been dismissed for the 2017 overdose death of Walmsley's wife Rachel. File photo.
(Ripley County, Ind.) – A Batesville man will not face a murder charge for injecting his wife with drugs that resulted in her death.
James Trimnell dealt the heroin to Nathaniel Walmsley in Batesville in July of 2017. Walmsley injected the drug into his wife, Rachel, who then died of an overdose during a family barbecue.
Ripley County Prosecutor Ric Hertel took the unprecedented step of charging Trimnell and Walmsley with murder for the fatal overdose. More commonly, drug dealers in Indiana have faced the less-serious charge of Reckless Homicide in the event of an overdose resulting from drugs they sell.
Trimnell had a murder charged dismissed in March of 2019.
On December 19, the Indiana Supreme Court declined to accept transfer of the Court of Appeals' decision that resulted in the dismissal of murder charges against Walmsley.
The Court of Appeals stated, "Because the evidence shows that Nathaniel and Rachel jointly acquired possession of the drug for their own use the moment Trimnell dropped it off at their house, Nathaniel did not 'deliver' the drug to Rachael when he injected her. Therefore, he can't be charged with felony murder for injecting her. We therefore reverse the trial court's denial of Nathaniel's motion to dismiss the felony murder charge."
Following the Court of Appeals' decision, the Indiana Attorney General's Office requested that the matter be transferred to the Indiana Supreme Court. Prior to the case being accepted by the Supreme Court, the court voted 3-2 in favor of not accepting transfer of the case.
The Supreme Court decision formally ends the state's ability to appeal the Court of Appeals' decision and ensures that Walmsley will not face a murder charge for injecting his wife, Rachel Walmsley, with drugs that resulted in her death.
Walmsley was charged with Possession of a Narcotic Drug (Level 6 felony) and Neglect of a Dependent (Level 6 felony).
Regarding the Court of Appeals' and Supreme Court's decisions, Prosecutor Ric Hertel stated, "While we respect the decision of the Court of Appeals and Supreme Court, we are very disappointed with the outcome, and our hearts are heavy for Rachel's family. We felt the
Defendant's conduct warranted the charge of felony murder but understand that the Court's decision ends this case and a jury will not hear it as a murder case. As always, my office will continue to aggressively address those who deliver drugs in our community with every tool we have available at our disposal." Regarding Walmsley's pending charges, Hertel stated, "all pending charges are merely allegations and the Defendant is innocent until proven guilty."
RELATED STORIES:
Accused Drug Dealer's Murder Charge Formally Dismissed; Released From Jail
Court Of Appeals: Drug Dealer Can't Be Charged With Murder
Murder Cases Connected To Drug Overdose Death Likely To Drag On
Husband, Drug Dealer Face Murder Charge After Woman's Deadly Overdose