The ordinance allows for special liquor licenses to be issued within a certain area in downtown Lawrenceburg.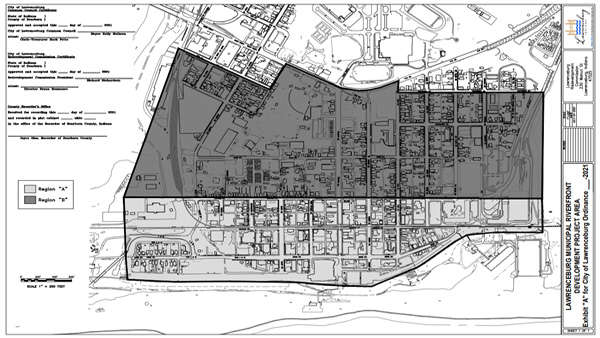 The light gray area shows the first three city blocks nearest to the Ohio River. The darker gray represents the next three downtown blocks that could are also subject to the MRDPA. Photo provided.
(Lawrenceburg, Ind.) - The City of Lawrenceburg is continuing to find ways to grow economic development and quality of life.
On Monday, City Council approved an ordinance establishing a Municipal Riverfront Development Project Area.
Under Indiana Code 7.1-3-20-16, the City is able to establish a Municipal Riverfront Development Project within the area touching the river that is also part of the City's already established Redevelopment Area.
Under the ordinance, the Indiana Alcohol and Tobacco Commission can issue a non-transferrable permit to sell alcoholic beverages for on-premises consumption to a business that is located within three city blocks from the river.
The City counted the area as the three blocks including the block that contains Ivy Tech and the Lawrenceburg Event Center, and then went north three block to Center Street. The next three block are also subject to this area with some additional requirements, which would essentially take the Municipal Riverfront Development Project Area all the way to U.S. 50.
Liquor licenses can be issued as three-way (wine, beer, liquor), two-way (wine, beer), or one-way (beer) as long as the location is not within 200 feet of facilities owned by a State educational institution.
Council will have the power to recommend approval of permits and deny or later rescind such recommendation at any time for any reason.
City Attorney Del Weldon said at Monday's council meeting that the special liquor licenses will not affect other local businesses with traditional liquor licenses.
Ordinance 10-2021 can be seen here.