The fire shut down State Road 48 for a few hours Thursday afternoon.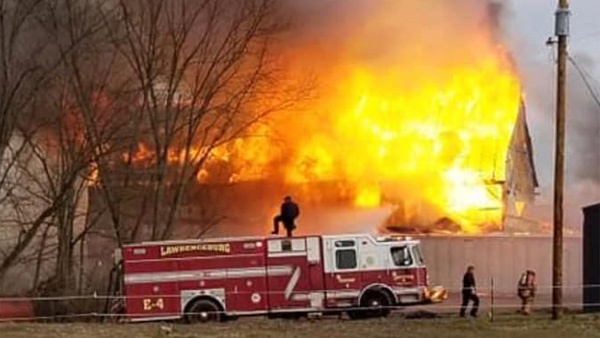 Photo by Lawrenceburg Fire Department.
(Lawrenceburg, Ind.) – Lawrenceburg Fire Department has released more information about a fully involved barn fire on Thursday.
Firefighters responded to the blaze along State Road 48 at Keller Road around 2:00 p.m.
Upon arrival, heavy fire was coming from a large barn.
Two attack lines were deployed for fire attack and exposure control. The barn was a total loss, but firefighters were able to prevent the fire from spreading to nearby structures.
No injuries were reported.
State Road 48 was closed for multiple hours while firefighters worked to contain the blaze.
Lawrenceburg Fire Department was assisted at the scene by Lawrenceburg EMS, Manchester Fire Department, Aurora Fire Department, Miller York Fire Department, LMU, and the Dearborn County Sheriff's Office.