The truck and the motorcycle burned on Rabbit Hash Road on Saturday.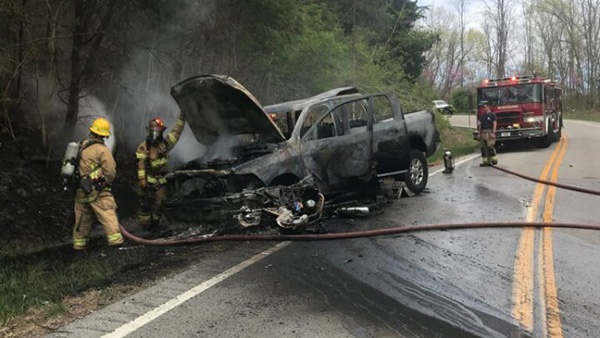 Photo by Boone County Sheriff's Office.
(Boone County, Ky.) - A pickup truck and a motorcycle burned after colliding on Rabbit Hash Road in Boone County over the weekend.
The wreck happened Saturday around 4:00 p.m. when, Boone County Sheriff's deputies say, Carlos Rodriguez, 27, of Florence, lost control of his motorcycle on a curve. The bike struck an oncoming Dodge Ram pickup head-on.
Miraculously, Rodriguez suffered only a fractured right wrist and a leg injury and was flown to an area hospital.
Two men in the pickup were not hurt.
The vehicles caught fire after the collision and were both destroyed.