The male Eagle is being nursed back to health and is expected to be released this summer.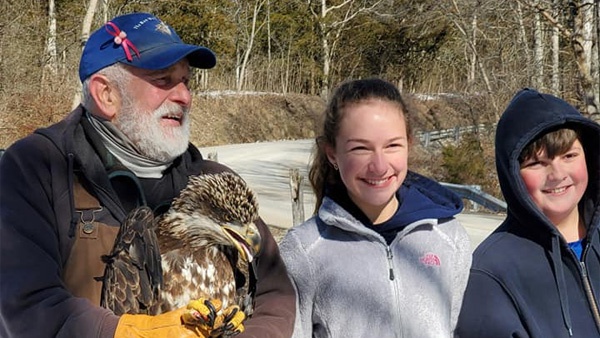 Photo by Manchester Volunteer Fire Department.
(Manchester, Ind.) – Manchester Volunteer Fire Department made an unusual rescue over the weekend.
An injured, defenseless male Bald Eagle was located along the side of a local roadway on Saturday. With Red Wolf Sanctuary, Fire Chief Kevin Havllin, his daughter Josie, nephew Landon and Assistant EMS Chief Erin Jordan, the Eagle was safely caught.
The two-year-old male had a wing injury and was unable to fly.
He is currently resting in a darkened crate and is offered food and water. Once he has gained enough strength, the bird will go to Bright Veterinary Clinic for x-ray, blood work and to check for lead poisoning.
If all goes well, the male Eagle is expected to be released this summer.