An artist from Milan was among the honorees.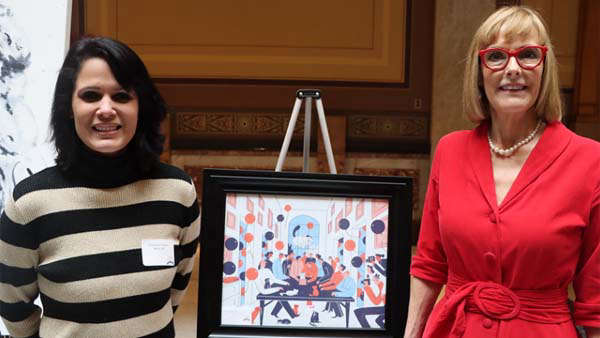 Cristianne Fritsch, of Milan (left) with Lt. Governor Suzanne Crouch. Photo provided.
INDIANAPOLIS – More than two dozen women artists from Indiana were celebrated on Wednesday.
Lt. Governor Suzanne Crouch and the Indiana Arts Commission announced the 2023 Hoosier Women Artists awardees at a celebration in the Indiana Statehouse.
Of the 230 pieces that were submitted to the program this year, 29 were selected to be displayed in the Statehouse and at the Governor's Residence where they will be admired by thousands of visitors for the next year.
Locally, Cristianne Fritsch, of Milan, was selected as an honoree for her artwork, "The Joy of Pet Parenting."
The Hoosier Women Artists program began in 2008 to celebrate the work of female artists from around the state. Pieces in the 2023 exhibition are from many mediums and art styles including painting, photography, digital art, paper quilling and other multimedia styles.
"Every time someone visits my office, I get to share with them that the artwork displayed on the walls was created by talented women from across the state," said Crouch. "We are blessed to work in this stunning building every day, and the opportunity to display their art makes it somehow even more beautiful."
View images of the 2023 honorees here.
Honorees are from across the state and will be in the following offices:
Office of Indiana Lieutenant Governor Suzanne Crouch
Anna Afshar (Indianapolis) - "Indianapolis Then"
Nichole Baker (Lafayette) - "Sonic Metal"
Faith Belflower (Bloomington) - "Superman"
Sarah Boutwell (Indianapolis) - "Calm After the Storm"
Boxx the Artist (Indianapolis) - "Lady Blues"
Pamela Clements (Crown Point) - "2020"
Kenya Ferrand-Ott (West Lafayette) - "Silver Bison"
Penny French-Deal (North Manchester) - "The Tall Ship"|
Cristianne Fritsch (Milan) - "The Joy of Pet Parenting"
Mary Elizabeth Mindiola (Indianapolis) - "Think Big, Dream Easy"
Brandi Page (Monticello) - "Sunflowers at Sunset"
Debbie Potis (Osceola) - "The Butterfly Effect"
Frances Ruiz (Fishers) - "Bailando Bomba de Noche (Dancing Bomba in the Evening)"
Lisa Bliss Rush (Camden) - "Free Spirit"
Edda Taylor (Crown Point) - "Mother and Child"
Dee Thornton (South Bend) - "A Walk in the Park"
Beverly S. Wilson (Greensburg) - "Laboring in the Heartland"
Shirley Woolard (Indianapolis) - "Feather Weight"
Kathryn Jo Houghton (Crawfordsville) - "Fancy Tulips and Pears"
Sharon Kerner (Shelby) - "Keeping Watch"
Corinne McAuley (Bunker Hill) - "Pink Peonies"
Christine Hubbell (Westville) - "Folly/Cerulean Warblers"
Megan Marie Hughes (Lebanon) - "A Midwestern Spring"
Anna Sowka (Bloomington) - "Nothing Is Ever Lost"
Emily Bennett (Terre Haute) - "The Kitchen Sink"
Jane S. Lohmeyer (Valparaiso) - "Missing Beach 2"
Susan Ardelean (Avon) - "Virgo's Groove"
Madhuchhanda Mandal (Carmel) - "The Faceless Entertainer"
Norene Slack (Greenwood) - "Reaching To The Sky"