DCYA is a youth coalition dedicated to being able to connect and inspire young kids in our community.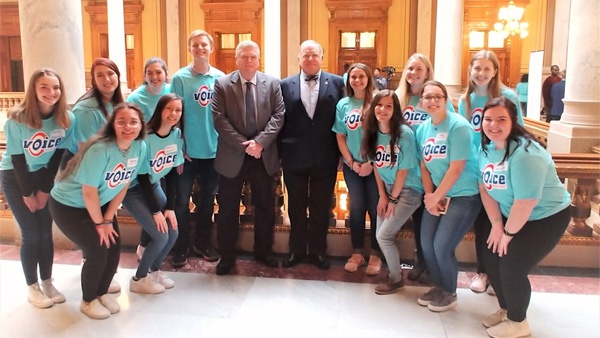 Dearborn County Youth Ambassadors (DCYA) with City of Greendale Mayor Alan Weiss and State Representative Randy Lyness. Photo provided.
(Dearborn County, Ind.) - On Monday, members of the Dearborn County Youth Ambassadors (DCYA), a group of local high school students attended the Voice Action Speaks: Day of Action in Indianapolis. According to DCYA Senior Marcus Raab, this youth coalition is dedicated to "being able to connect and inspire young kids in our community". We have all heard about the vaping epidemic in our country, especially among our youth, and these high school leaders have been dedicated to showing our community, our government officials, and other youth in Indiana what it means to turn words into action.
Youth from all over the state were invited to Indianapolis to hear from legislators and share with them the actions they are taking in their communities. Among the elected officials present were local Greendale mayor, Alan Weiss, State Representatives Randy Frye and Randy Lyness, State Senators Jeff Raatz and Chip Perfect, and Governor Eric Holcomb. The youth attending also heard from Dr. Kristina Box, Indiana State Health Commissioner, Moses Jones, actor and "Sweet Deceptions" presenter, and Tony Passino from the Truth Initiative.
DCYA joins students from all three local high schools as well as homeschooled students. They volunteer their time to provide activities, programs, and advocacy efforts all in the name of substance use prevention. They are led by long-time CASA Youth Coordinator, Amy Rose, and are the youth-led sector of Dearborn County's Local Coordinating Council for Drug-Free Communities (Dearborn County CASA).
In a true testament to DCYA's advocacy efforts, they were one of two youth coalitions highlighted during this event. They spoke about their programs and successes, the importance of prevention, and why we need to be concerned about youth vaping. These local teens were chosen to work with VOICE and receive training in a peer to peer vaping initiative led by the Indiana State Department of Health.
Local DCYA Seniors, Dianna Sprague (EC) and Marcus Raab (SD) spoke on behalf of the group. Marcus said the youth voice is so important because "we know firsthand what it's like in our county and although we lack some experience, we make up for it with drive and creativity". He also provided a statement from the Center for Disease Control "without a path change, nicotine addiction and tobacco use will dramatically shorten the lives of 5.6 million kids alive today" adding that "Those 5.6 million kids are our future."
Dianna described a personal experience that increased her passion and commitment to end teen vaping. At the DCYA Annual Youth Summit 2019, a student came to her asking for help for his mom. Dianna shared that his concern about his mother's tobacco use "troubled me that I couldn't do anything more for this boy than offer him an application to join" DCYA. After providing him with information, Dianna said she found comfort knowing "we were there, standing up for the same cause" and added that "this encounter reminds me of the impact a group, or even just one person, can have on someone's life. I decided after this, I needed to do more".
Summing up, Dianna stated that "I believe we can end this epidemic by influencing youth to do better things and by giving them opportunities for healthier activities. Our future lies within us, we just need a hand to guide us in the right direction". Through the triumphs and frustration they encounter along the way, DCYA continues their mission to improve the lives of youth in Dearborn County. They provide the youth and adults in our county with an example of moving voice to action.
Dearborn County CASA is funded through the generosity of the City of Lawrenceburg, with in-kind sponsorships from Eagle Country and media sponsorship from Friendship Bank. Mayor Weiss and the City of Greendale are also long-time supporters of this youth-coalition. This group's efforts would not be possible without these local partners and many others in our community.