The Pumpkin Show King and Queen have been crowned.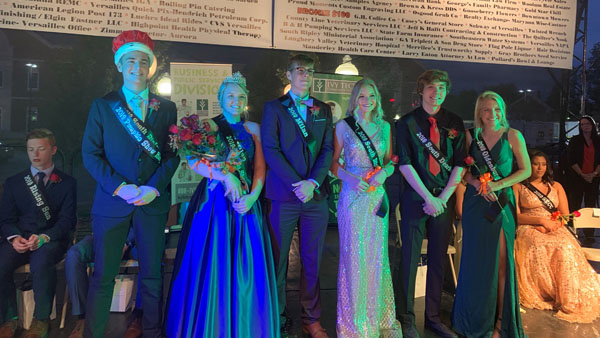 Royalty was crowned during opening night of the 117th Versailles Pumpkin Show. (Standing left to right) King Sam Evans of South Ripley, Queen Jessica Starkey of Milan, first runner-up Carter Wade of Milan, first runner-up Lilli Hilton of South Ripley, second runner-up Tyler Baker of South Dearborn, and second runner-up Faith Sullivan of Oldenburg Academy. Photo provided by Ryan Holcomb.
(Versailles, Ind.) - The 117th Versailles Pumpkin Show got started Wednesday, marking a long-running fall tradition on the Ripley County Courthouse Square.
The first Pumpkin Show took place in the 19th century. In October of 1899, local businessman Alfred H. Beer organized the first festival, which including the giveaway of a gold watch to the farmer who brought the heaviest pumpkin.
Today, the show is organized by the volunteer men and women at the Versailles Lions Club.
This 2019 festival kicked off Wednesday evening with the queen and king crowning. Those honors went to Jessica Starkey of Milan High School and Sam Evans of South Ripley High School.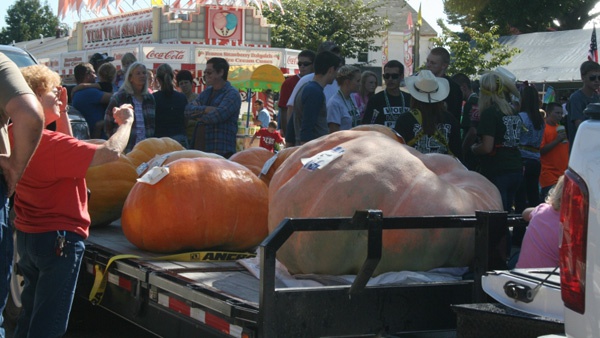 Versailles Pumpkin Show. File photo.
The Pumpkin Show runs through Sunday, September 29 in the heart of Versailles. In addition to all the rides, there will be live music, food, games, and more.
A Smithsonian-curated exhibit called "Crossroads: Change in Rural America" will be on display for free at the Town Hall Building during the festival. Part of the exhibit will focus on the school consolidation forming the South Ripley Community School Corporation.
The big Pumpkin Show parade is Saturday morning at 10:30. It will be followed by the weighing of the big pumpkins at 12:15 p.m.
Details of the festival can be found online at www.versaillespumpkinshow.com.
RELATED STORIES:
Ripley Co. Tourism Awarded Funds To Highlight Changing Landscape In Rural America