Cherie Rump is a big reason for the success of the Dillsboro Heritage Festival. But she's done a whole lot more in the community during her life.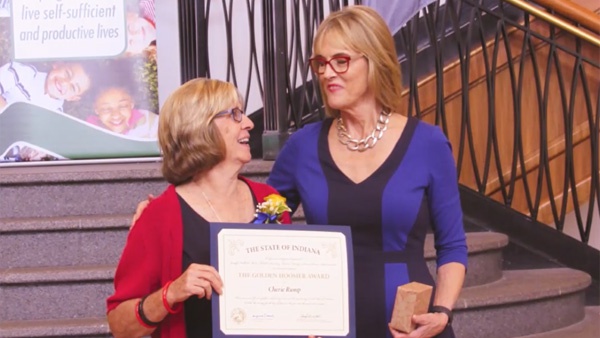 Cherie Rump, of Dillsboro, receives her Golden Hoosier award from Indiana St. Gov. Suzanne Crouch. Photo provided.
(Dillsboro, Ind.) – Dillsboro resident Cherie Rump has done a lot to make a difference in her community during her lifetime.
That's why she is among 23 senior citizens to earn the 2019 Golden Hoosier Award. Awarded each year by Indiana Lieutenant Governor Suzanne Crouch, the Indiana Family and Social Services Administration, and AARP, the award honors Hoosier senior citizens for their years of service and commitment to the state.
"Since 2008, Hoosiers have been recognized for service to their communities with the prestigious Golden Hoosier Award. It is not just one act of community servie, but rather a lifetime of community service and commitment to serving others that we honor this special occasion" said Crouch.
Rump has volunteered for decades, dating back to her days as a candystriper at Highpoint Health as a teenager.
Today, she serves as an organizer for the Dillsboro Heritage Festival. According to Town of Dillsboro economic development director Susan Greco, Rump's endless energy turned the Dillsboro Heritage Festival from what was to be a one-time, one-day event into an annual weekend celebration of the history and heritage of her beloved community.
Rump has also given a hand with Habitat for Humanity, ARC of Dearborn County, Relay for Life, Dillsboro Elementary School, and Dillsboro United Methodist Church.
A friend stated, "She tackles any job that is put before her and completes the work with excellence and humility."
More than 80 nominations were submitted for this year's Golden Hoosier awards. More information about the award is available at https://www.in.gov/lg/2532.htm.