Inclement weather impacted the contest on Wednesday.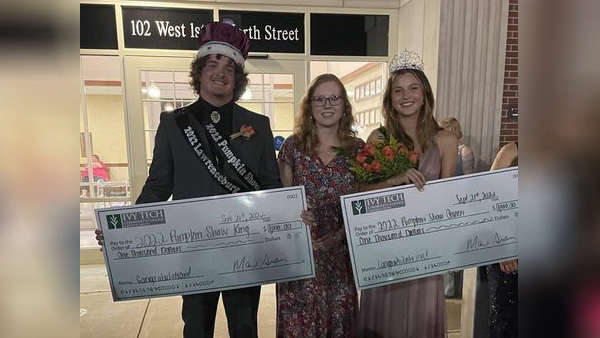 Photo by Ivy Tech Lawrenceburg.
(Versailles, Ind.) - Weather threw coordinators and contestants a curveball at the Versailles Pumpkin Show King & Queen Contest on Wednesday night.
The competition was forced indoors at the Ripley County Courthouse Annex.
In the end, Lawrenceburg's Colton Roth and Oldenburg Academy's Avery Hammerle were named the King and Queen. Each received $1,000 scholarship from Ivy Tech Lawrenceburg.
Filling out the King and Queen court was First Runners-Up Joseph Davis (South Ripley) and Jenna Hornbach (East Central), followed by Second Runners-Up Sam Bond (East Central) and Ellie Ohlmansiek (Rising Sun).
The full King and Queen Contest can be viewed in the video player below.