The Youth Archaeology Club appeals to kids thinking about becoming an archaeologist.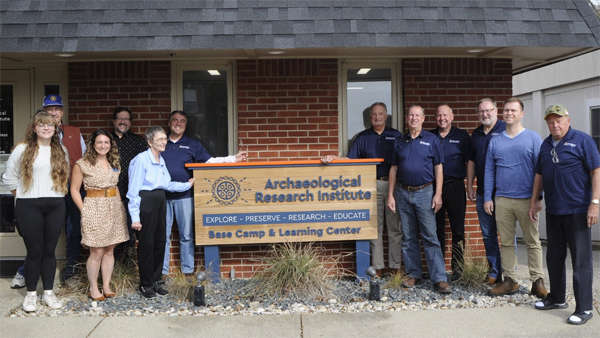 Photo caption: Lawrenceburg Kiwanis Club presented a $1,600 contribution to the Archaeological Research Institute in November 2021. Pictured are (left to right) public archaeologist Bailey Raab, Kiwanis Club member Chuck Folop, ARI executive director Liz Sedler, senior archaeologist Marcus Schulenburg, Kiwanis Farmland Lt. Gov. Marilyn Hutchinson, Kiwanis members Ted Richardt, Bill Ritzmann, Scott McClain, Mark Graver, Larry Campbell, Mike Perleberg, and Don Siemers.
(Lawrenceburg, Ind.) - Dearborn County area children will be able to participate in the Archaeological Research Institute's Youth Archaeology Club free of charge thanks to the Kiwanis Club of Lawrenceburg.
In line with its mission to serve kids, the Kiwanis Club recently contributed $1,600 to ARI, a 501(c)3 not-for-profit organization based in Lawrenceburg, to cover startup costs of the Youth Archaeology Club.
"As a civic group which has been active in the Lawrenceburg community for 98 years, Kiwanis believes history is important," said Lawrenceburg Kiwanis Club member Scott McLain. "The Archaeological Research Institute is a valuable partner in uncovering, documenting and preserving local history and we are glad to sponsor local kids who want to explore with them."
The Youth Archaeology Club appeals to kids thinking about becoming an archaeologist, interested in history, doing experiments, exploring past cultures, or even playing in the dirt. Participating students will conduct field excavations, work in the ARI Lab with professional archaeologists, visit local archaeological and historical sites, build crafts, and explore career paths in archaeology. The youth club meets year-round on the third Saturday of the month from 10:00 a.m. until noon. Participation includes a club t-shirt, bandana, binder, field trip, monthly activity, and a 25 percent discount on ARI summer camps.
For more information about ARI's Youth Archaeology Club or to sign up, visit www.exploreari.org, email info@exploreari.org, call 812-290-2966, or visit the ARI base camp at 424 Walnut Street in Lawrenceburg, Indiana during office hours.
The Kiwanis Club of Lawrenceburg holds a lunch meeting each Tuesday, 12:00-1:00 p.m. at Zion Church, 340 Walnut Street, Lawrenceburg. The club is always welcoming new members. Contact club president Larry Campbell for more information, 812-655-4207.