The City of Lawrenceburg Annual Public Safety & First Responders Appreciation Dinner was held June 12.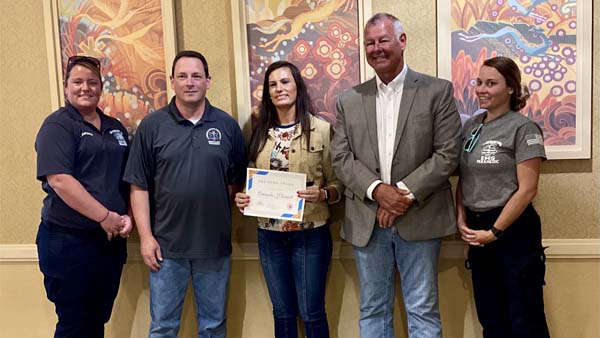 Pictured are (left to right) EMT-Paramedic Felicia Sullivan, LERU Director Rick Clark, EMT-Paramedic Amanda Honnert EMT-Paramedic, Mayor Kelly Mollaun and EMT-Paramedic Bridget Givan. Photo provided.
(Lawrenceburg, Ind.) - The City of Lawrenceburg Annual Public Safety & First Responders Appreciation Dinner, held June 12th, highlights the Lawrenceburg Police Department, Lawrenceburg Fire Department and Lawrenceburg Emergency Rescue as an experienced group of trained individuals dedicated to ensuring our families, workforce, community, businesses and local events stay protected and safe.
During the event, EMT-Paramedic Amanda Honnert received the Emergency Medical Services Hero of the Year Award.
The award was presented by LERU Director Rick Clark who shared "I would like to present Amanda Honnert with the "EMS Hero Award" (along with a pin and certificate) for her dedication in putting patients first in the face of adversity. Amanda was recently diagnosed with a major health concern. Amanda has always held patient care as her first priority. She sets a benchmark for our first responders with her smiling and energetic demeanor, knowledgeable experience and caring compassion. This demonstrates to our department and community what kind of paramedic she is. We are truly fortunate to have Amanda's dedication to patient care as a benchmark for all 1st responders."
Amanda's background includes working as a registered medical assistant in Lawrenceburg and Cincinnati, a basic emergency medical technician/paramedic for Ripley County Emergency Medical Services, an event paramedic for Tri-Health Event Medicine in Cincinnati, and as a paramedic for King's Daughters Health Emergency Medical Services in Madison. She joined the Lawrenceburg Emergency Rescue as an EMT-Paramedic two years ago.
In honor of the LPD, LFD & LERU, Mayor Kelly Mollaun shared "our admiration, respect and thankfulness from not only myself, but the entire community. If you run into Amanda Honnert or any of our public safety and first responders, please don't hesitate to thank them for their unwavering service to our community. These individuals and their departments, with support from their families, are truly the reason why we are able to keep Lawrenceburg as the City on the Rise."